Donkervoort Celebrates Mille Miglia with D8 GTO 1000 Miglia Edition

Donkervoort D8 GTO 1000 Miglia Edition was created to celebrate a special event. For the first time in its 37-year history, the company was represented in the famous Mille Miglia rally. This is exactly the reason why this D8 GTO special edition was born. Dubbed 1000 Miglia Edition, the car is truly unique and will be produced in only 25 examples.
Of course, there will be a special certificate stating this. Each car will be identified by specially designed logos and badges inside and out, giving a specific serial number and showing its authenticity.
Only 25 examples will be built.
But what is the purpose of this D8 GTO 1000 Miglia Edition? There is no need to ask such a question, since the car carries the GTO designation. Therefore it stands for maximum utilization of the GTO for touring purposes.
What is more, the Dutch-made car was built with the goal to improve the ease-of-use and the total comfort, thus ensuring the maximum enjoyment of driving the GTO on European roads. This also signifies that the vehicle is actually a true touring version. And it makes a pretty good contrast to its more circuit-oriented predecessors - D8 GTO Performance and the Bilster Berg Edition.
SEE ALSO: Donkervoort Releases Nearly Full-Carbon D8 GTO Edition
Engine
Under the hood of Donkervoort D8 GTO 1000 Miglia Edition there is Audi's 2.5L R5 TFSI engine, which produces around 310 horsepower (278 kW). This gives the car a slightly milder nature, doesn't it?
Exterior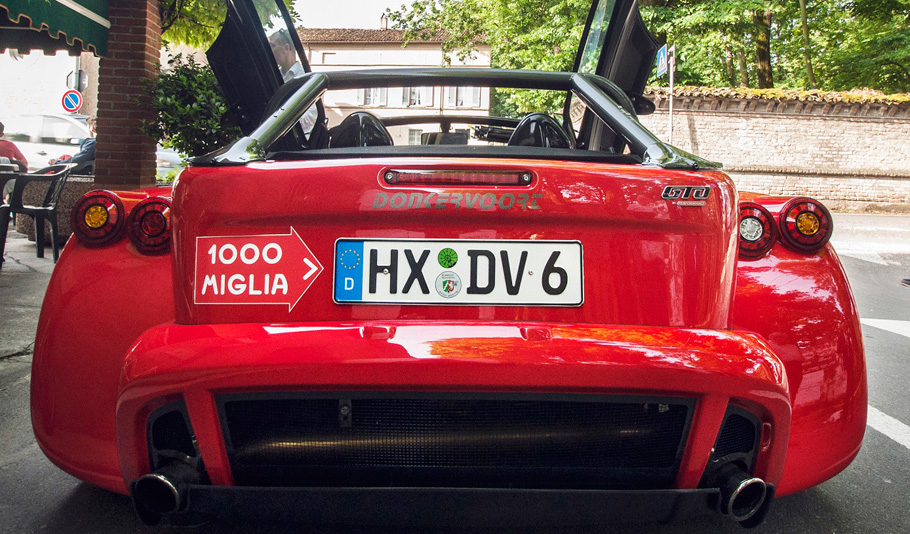 The total weight of the vehicle is 760 kg. The low weight is due to a reduction in the use of carbon fibre. In exchange, the driver will get a slightly more comfort on the road. In addition, there is a change in the driving height, which was increased, because of the aim to build a car for street use. This was achieved via adjustable comfort shock absorbers.
Interior
Inside, the dashboard was classically designed. In other words, one sees a dash which includes the conventional dials. However, they have some extra facilities like mobile-phone use and navigation that have been integrated in the cockpit.
Price
Donkervoort D8 GTO 1000 Miglia Edition has a starting price of €115,000.
Source: Donkervoort