dp Motorsport 1973 Porsche 911
1973 Porsche 911 is a stunningly beautiful car and what is more, it is fantastic to drive not only because it has magnificent engine, but it is super lightweight. Still, the dp Motorsport has "added" some additional equipment to the small Porsche or we should say "deleted"…
The rear-engined 911 is powered by a 3.6 litre flat-six with 310PS (228 kW). The car also comes with open air filters, a programmable advance curve double fuse combined with a G-50 Gearbox and limited slip differential are the decisive engine/transmission characteristics.
The tuned 911 also features a dp11 RS 2011 bodykit manufactured from carbon, including front bumper and hood, fenders, lightweight doors, rear fender flares, rear bumper and rear spoiler.
There are also green heated windscreen, a set of green-toned Plexiglas windows, as well as lightweight lamp lenses, were installed for the sake of weight saving. Reduced-weight tail light lamp holders, as well as air conditioner cover and underride protection from carbon, help chop the weight down to the desired figure. The carbon roof panel has been manufactured using the sandwich vacuum technique, and both hoods are equipped with quick release fasteners.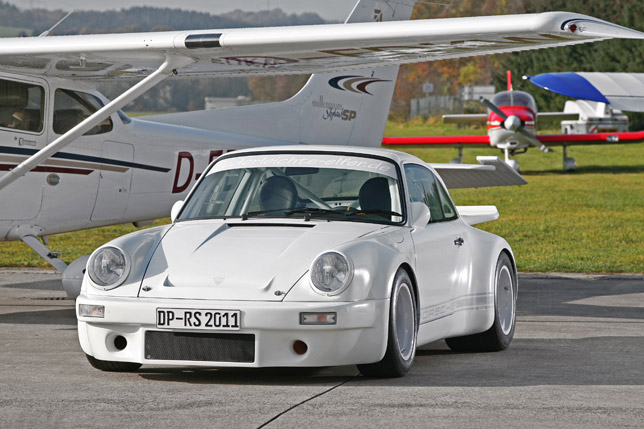 dp Motorsport 911 stands on superwide 9J x 15" at the front and 13J x 15" Fuchs  alloy wheels fitted with 225/50-15 and 345/35-15 tires, respectively.
Apart from the dp coilovers, adjustable stabilizers, as well as head bearing, the spring plates and rear-axle independent arms with Uniball bushings are definitely worth a mention. A braking system originating from a 964 model and adjusted for the 911-G-Modell provides appropriate deceleration.
The interior boasts dp 935 bucket seats, the light carbon dashboard, a special knee bar set and the raised central tunnel catch the eye at first glance. In contrast to the body colour, the interior is dominated by black Alcantra. A welded safety cage, a varnished sports steering wheel with Porsche horn button, a lid instead of the clock and a carbon underbody are impossible to overlook. Finally, such specials are featured as a dp Clubsporttank with the capacity of 70 litres, a 25-amp gel battery starter, a smaller windshield cleaning liquid tank, light electric interior airing system, a middle oil cooler with front hood ventilation, as well as a brake cooling housing made of carbon.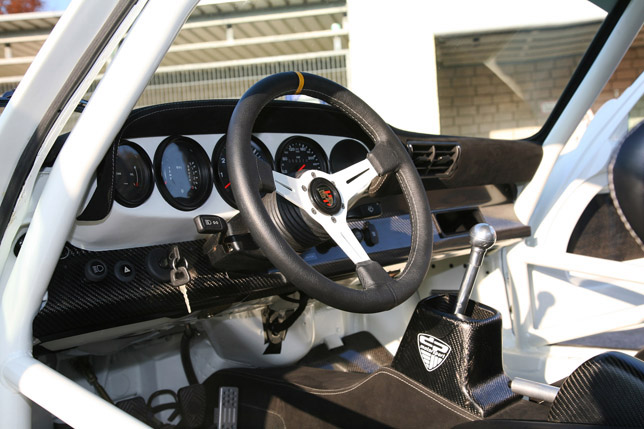 All these modifications ultimately result in bringing the unladen weight of this 911 down to 870 kg, so you have to expect amazing performance.
Source: dp Motorsport