DTE Systems uprates the SENT engine generation of Mercedes-Benz E220 d

The tuning studio has developed PowerControl SNT unit which adds more power and torque
DTE Systems experts are good human beings, who have developed a new tuning box, named PowerControl SNT, raising the potential of the latest Mercedes E220 d. Under the hood is the four-cylinder diesel (W213), which has become more sporting and agile. But to go into details, the added power is 24 bhp and 49 Nm.
What does this mean? The 2.0 litre turbo-diesel engine in the E-class produces 194 hp and 400 Nm of torque, at its stock version. The chiptuning solution provided by DTE, not only ensures there are better driving dynamics and greater torque, but also excites with more dynamic traction and significantly enhanced agility.
SEE ALSO: Another BMW M235i Cabriolet Project Mightier than its Stock Brother 
The Power Control SNT unit is responsible for all of this. It has Multi-Protocol technology, which helps in capturing both digital SENT signals as well as analog signals from the ECU. In addition, the engine parameters are precisely optimized based on RPM and engine load. Then, they are passed on to the engine management in real time. And this is how the Mercedes gets the addition of +24 bhp and +49 Nm, ensuing that there is a total of 218 bhp and 449 Nm of torque.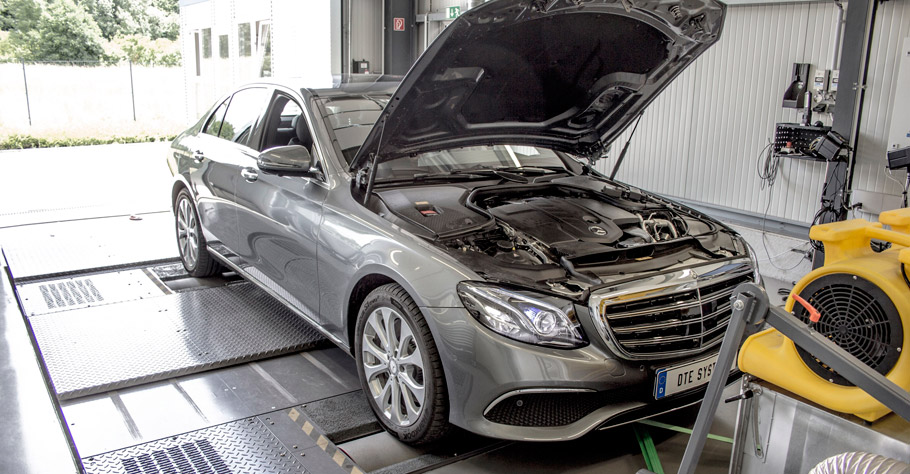 PedalBox has another benefit and it is that with its characteristics, the accelerator pedal can be easily fine-tuned. This gives the sedan a serious sporting prowess. For instance, when in Sport and Sport+ mode, the Mercedes E 220 responds with greater direction to the driver's commands on the throttle. On the other hand, the City mode is perfect for the traffic.
What else does this E-Class need in your opinion?
Source: DTE Systems