Dunham's Dodge Challenger SRT8 Project UltraViolet is no Laughing Matter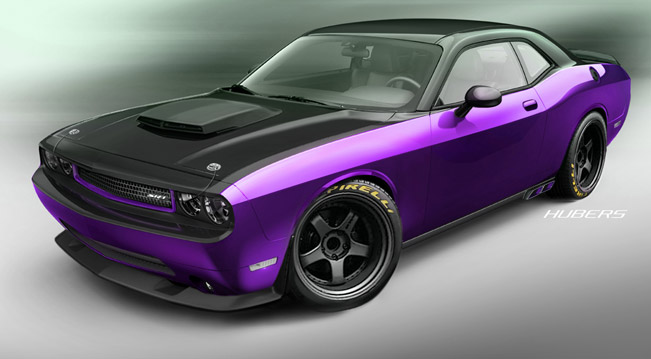 2012 Dodge Challenger SRT8 Project UltraViolet has been revealed at SEMA as part of Mopar's 75th anniversary celebration. The collaboration between Mopar, Street and Racing Technology (SRT) team, and comedian Jeff Dunham resulted in a custom Dodge Challenger SRT8.
Dunham speaks about it honestly: "It's a major understatement to say that I've been looking forward to the SEMA show this year, as we've had an awesome time creating this one-of-a-kind Challenger", who also says that the 1970 Plymouth Barracuda "as my favorite muscle car of all time".
Project UltraViolet takes its name from the two-tone paint scheme chosen for the Dodge. It combines an 'ultra'-violet body color with a black upper half. Furthermore, under the hood is the new Mopar 426 crate engine, which is able to generate 515 horsepower (380 kW) and 490 lb.-ft. (665 Nm) of torque. In addition, the project also benefits from the new engine tuning capabilities performed by Arrington Engines.
To go even further into detail, the Dodge is lowered with 1 inch and equipped with 22-inch HRE brand performance wheels sporting a matte and semigloss black finish. The rear end is wider, and larger more dramatic wheels flares are added to both front and rear to widen the body with 4 inches and create a muscular stance.
A lot of hand-made parts were utilized in this project: new rear diffuser, dive-planes, new front splitter, all-new rocker panels, new lower-rear spoilers, new deck-lid spoiler and custom aluminum side sills with the exhaust exiting in front of the rear wheels. Bumpers are changed as well, and the grille is now slightly larger. Headlamp lenses are added along with tinted taillights.
How about the interior? It includes premium materials and craftsmanship: handcrafted full-grain Nappa leather with color-keyed accent panels, premium-grade color-keyed accent stitching, computer-controlled custom embroidery, custom-built seats supplied by Lear, tuned exhaust with stainless steel tips by Palmer, and a Hurst brand short-throw shifter.
All of these elements combined together create an old-school muscle-car look, and contribute to the machine's more aggressive appearance.
Source: Dodge