Beefed-Up Six-Speed Transmission Meets High-Torque Demands of 3.5-Liter Ecoboost Engine
Ford's 3.5-liter EcoBoost V-6 engine debuts this spring with the perfect running mate for maximum performance and fuel efficiency – a six-speed SelectShift automatic transmission that's specifically designed for the higher torque demands of the all-new twin-turbocharged, direct injection engine.
Developed from the successful 6F-50 transmission, the 6F-55 is dedicated solely to the 3.5-liter EcoBoost engine and incorporates a number of component and calibration upgrades that help guarantee every drop of torque produced by the turbocharged V-6 is seamlessly transmitted, giving customers that V-8-like performance they love, as well as the fuel economy they demand.
"Adapting the 6F architecture to the EcoBoost engine demanded a close look at every component, piece of hardware, and calibration measure to ensure that this transmission could answer the needs of a higher output engine; help, not hinder, fuel economy; and meet Ford's strict durability standards," said Barb Samardzich, vice president, Global Powertrain Engineering.
The engine/transmission combination is already proving its muster. The 2010 Lincoln MKS, the first Ford Motor Company vehicle to offer the 3.5-liter EcoBoost engine and 6F-55 transmission package, will deliver an impressive 355 horsepower and a responsive 350 ft.-lbs. of torque, along with achieving 25 mpg on the highway.
That's more power and better highway fuel economy than the V-8 engine found in the 2009 Lexus GS460 (24 mpg) or the 2009 Inifiniti M45 (21 mpg). The recently announced return of the 2010 Ford Taurus SHO also will sport the EcoBoost V-6 and the six-speed SelectShift transmission, delivering an estimated 365 horsepower at 5,500 rpm and 350 ft.-lbs. of torque at 3,500 rpm, while maintaining fuel economy ratings on par with a V-6 engine.
Other 2010 products set to offer this powertrain combination include the Ford Flex and Lincoln MKT.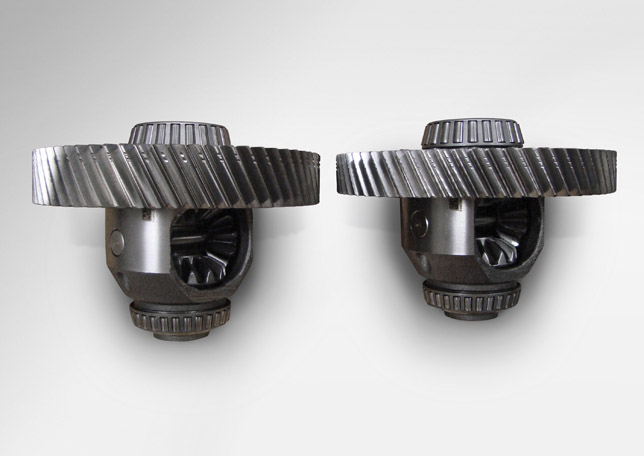 High Torque Edits The 3.5-liter EcoBoost engine strategically uses two small turbochargers, which are quick to respond to throttle inputs, spooling up instantly for torque output that's impressive – peaking earlier in the rev range than a comparable, normally aspirated engine. The turbo system does, however, run at higher temperatures.
In order to handle the elevated operating temperatures associated with a turbocharged engine and carry the higher torque produced by the 3.5-liter EcoBoost V-6, the 6F-55 incorporates a blend of hardware, material and calibration upgrades.
The transmission features, for example, wider, thicker transfer and final drive gears, improved input and output carriers, and a new differential case to carry the higher energy produced by the engine and deliver the performance customers expect when they accelerate. The ring gear on the 6F-55, for instance, is a beefier 41.5 mm versus 31.5 mm on the 6F-50.
Final drive ratios have been adjusted and matched to gear ratios to provide optimum performance and fuel economy. Clutches also have been upgraded with high-energy friction materials that can handle higher loads and shift energies over the long term. In addition, clutch piston material upgrades can withstand higher operating temperatures. This, along with thicker thrust washers, and an improved heat treatment on the turbine shaft help handle the higher engine torque.
"We had to bulk up and strengthen all of the transmission's core parts for higher duty cycles," said David Capoccia, transmission system manager, Ford Powertrain Operations. "The thicker gears, the improved carriers, upgraded clutches are all part of a set of hardware actions that translate to superior performance and durability for the customer."
The 6F-55's torque converter was also tweaked to improve drivability and create a more connected feel for customers. The converter even has its own exclusive efficiency curve and design for increased strength and durability, bolstered by four lugs welded on the cover in comparison to three on the 6F-50.
A second roll restrictor boss, which limits powertrain movement during acceleration, was also added to the Lincoln MKS and MKT EcoBoost transmission packages for superior noise, vibration and harshness (NVH) and a smooth, seamless acceleration experience.
Fuel Economy Factors The 6F-55 may be bigger and stronger, but it is not less efficient, according to Capoccia. Several of the transmission upgrades actually help improve fuel efficiency. They include:
* Friction material grooves, which break up the fluid flow between the friction and separator plates and help pump fluid through the plates, have been optimized to reduce overall clutch drag losses.
* Moving from a six to a nine wave CBLR (Clutch Brake Low Reverse) spring – which aids in mechanically separating the clutch plates – provides a flow path for the fluid that reduces overall clutch drag losses.
* Calibration measures, such as reducing the modulated slip from 40 rpm to 20 rpm allows less fuel to be burned to deliver the same torque to the wheels; and locking up the torque converter in lower gears to expand the operating range and provide optimum fuel efficiency.
* Increasing the start-to-open temperature of the bypass valve by 15 degrees, which allows the transmission to run at higher, more efficient temperatures and save fuel.
A High-Volume Commitment The addition of the 6F-55 builds on the reputation of Ford's 6F transmission architecture. And like the 6F-50, the 6F-55 offers customers all the benefits associated with an advanced six-speed gearbox, including superior shift quality, improved acceleration, a more refined driving experience and improved fuel economy. In addition, the SelectShift feature allows the customer to choose gears for a more spirited drive.
"The 6F-55 has all the same features that customers have told us they desire from the 6F-50 transmission, and that includes fluid-fill for life and flat tow capability," adds Bryce Bollwahn, a systems supervisor at Ford's Automatic Transmission New Product Center.
Going forward, advanced six-speed transmissions, along with EcoBoost engine technology, will continue to dominate Ford's sustainability strategy. By the end of 2012, nearly 100 percent of Ford's North American transmissions will be advanced six-speed gearboxes. By 2013, more than 90 percent of Ford's North American vehicle lineup will offer EcoBoost technology.
The 6F-55 is produced at Ford's Van Dyke Transmission Plant in Sterling Heights, Mich., which also produces the 6F-50 and 6F-35. The Van Dyke plant is one of three Ford six-speed transmission Centers of Excellence.