2012 EDO Competition Mercedes-Benz C 63 AMG T-Model with new power kit
2012 EDO Competition Mercedes-Benz C 63 AMG T-Model was designed specifically for the exceptional engine in the Mercedes C 63 AMG. The tuning that EDO Competition is offering to it is a power kit that will leave breathless almost anyone.
In particular, the kit comprises of new exhaust system, exhaust headers, high-flow catalytic converters, new air filters, revised engine electronics and a removal of the top speed governor.
As a result, the tuners have made the power of the Mercedes enormous – it was increased from the stock output of 457 horsepower (336 kW) to 600 horsepower (441 kW). Even more, the torque output has also grown from 600 Nm (442 lb-ft) to 680 Nm (501 lb-ft).
The increase of power comes with an impressive and awe-inspiring sound. It is produced from the new exhaust with butterfly valves. In details, the high-performance exhaust system includes a programmable electronic controller. The latter monitors the level of back pressure and opens the integrated 70 mm butterfly valves when a certain threshold is exceeded.
Moreover, this new exhaust is made entirely from stainless steel and the chromed exhaust tips. They look a lot like the original ones, and keep the same class and impressive styling.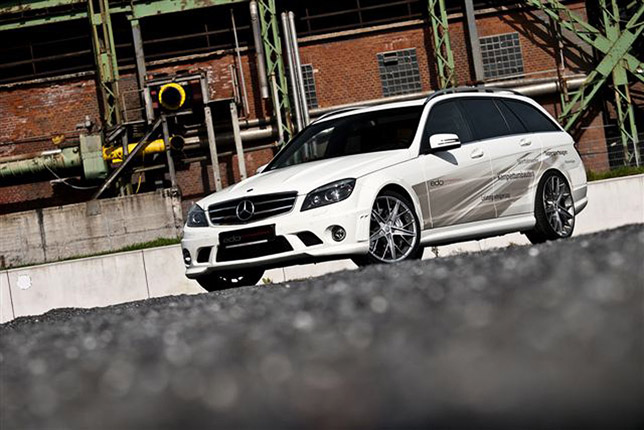 With greater power comes greater speed. 2012 EDO Competition Mercedes-Benz C 63 AMG T-Model has a top speed exceeding 340 km/h (211 mph).
And in order to keep up with that amazing number, there was a need of new tires. Now the Mercedes comes with new 19-inch Michelin high-performance tires. In fact, the 235/35 ZR 19 front tires were mounted on 8.5Jx19 multi-piece wheels, while at the same time the 265/30 ZR 19 rear tires on 9.5Jx19 multi-piece wheels.
And to make the car even more impressive, the EDO Competition tuners have taken care for the interior as well. Throughout the cabin, one can see carbon fiber applications which contribute for the esthetic qualities of the vehicle.
Technical Data:
• Engine: V8 engine
• Capacity est.: 600 hp / (441 kW) at 7.800 rpm
• Max. torque est.: 680 Nm at 5.300 rpm
Specifications:
• Top speed ca. 343 km/h / 214 mph
• 0 - 100 km/h (0 - 62 mph) est. 4,1 sec.
Tuning:
• new high performance exhaust system
• new sport manifolds
• new sport catalytic converter
• ECU recalibration
• Vmax abolishment
• sport exhaust system stainless steel, single (catalytic converter, muffler, end pipes)
• the sound level of the high performance exhaust can be adjusted via remote control
• 19" Sport wheels on Michelin Pilot Sport PS2 tires (235/ 35 R 19 in the front, 265/ 30 R 19 in the rear)
• wheels can be custom-painted on request
• interior carbon fiber
• custom exterior styling using special foil wrapping technology, available in any color
Source: Edo Competition