Wrapping Foil Instead of Paint Coating: CUT48 Mercedes-Benz McLaren SLR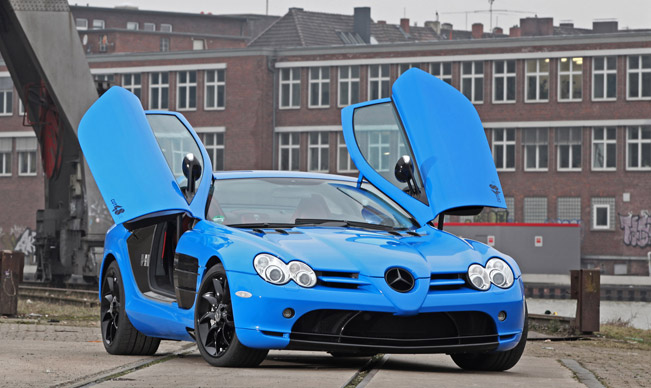 CUT48 Mercedes-Benz McLaren SLR looks astonishing, doesn't it? This absolutely stunning appearance of the car has been achieved not thanks to a standard paint coating, but instead – thanks to the utilization of wrapping foil.
The result is undoubtedly quite far from any expectations. The company CUT48, famous for handwork car wrapping foil, worked with precision in order to get to this final effect. This refers to the choice of foil, design and coordination of colors.
The individualization of the car had lead to a unique handmade masterpiece: the originally silver McLaren SLR was packed in blue and black gloss wrapping foil. In addition to the stunning visual attributes, this Mercedes-Benz has undergone a power upgrade at EDO Competition.
This means that the SLR can now generate over 722 hp (530 kW) and has a maximal torque of 890 Nm (657 lb-ft). In particular, the power enhancers installed electronic tuning of the ECU, sport air filters and new sport catalytic converters, modified compressor work, new exhaust manifold and modified intake system.
What is more, the 200 km/h is reached in less than 10 seconds, on the way of the supercar of its maximal speed of 345 km/h. In addition, the super sound of the car is further enhanced thanks to the installation of a stainless steel sport exhaust system.
Source: Miranda Media