EDS Opel Astra J Turbo
The latest model of Opel Astra – J has received a tuning package from EDS.
The performance package includes a pressure reducing high-performance needle valve, a high-quality steel connecting rod, a HG Motorsport turbo manifold and an EDS high-performance charge air cooler. EDS Opel Astra J Turbo also has a Garret GT28 turbocharger, a 100 mm air-flow meter, 550 cm3 injectors, a 70 mm down pipe with HJS 200CPSI Sport catalyst, Friedrich Motorsport 70 mm stainless steel exhaust system. Finally, EDS has installed a 240 mm EDS Sport clutch kit, and a Quaife differential lock.
The result is more than satisfying – 360PS and 480Nm of torque.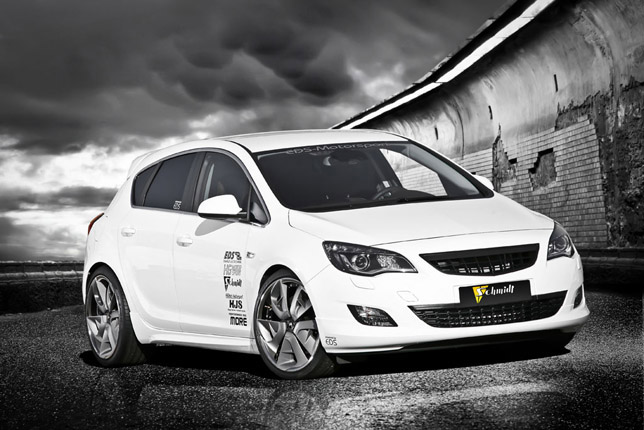 Price list:
Pressure reducing high-performance needle valve – 980 Euro
high-quality steel connecting rod – 550 Euro
HG Motorsport turbo manifold – 1200 Euro
EDS high-performance charge air cooler – 600 Euro
Garret GT28 turbocharger – 1000 Euro
100 mm air-flow meter – 300 Euro
550 cm3 injectors – 500 Euro
70 mm down pipe with HJS 200CPSI Sport catalyst – 800 Euro
Friedrich Motorsport 70 mm stainless steel exhaust system – 800 Euro
240 mm EDS Sport clutch kit – 1100 Euro
Quaife differential lock – 900 Euro
EDS Fahrzeugtechnik costs 1000 Euros
Source: Zercustoms