Eibach Releases Suspension Program For Mercedes-Benz GLA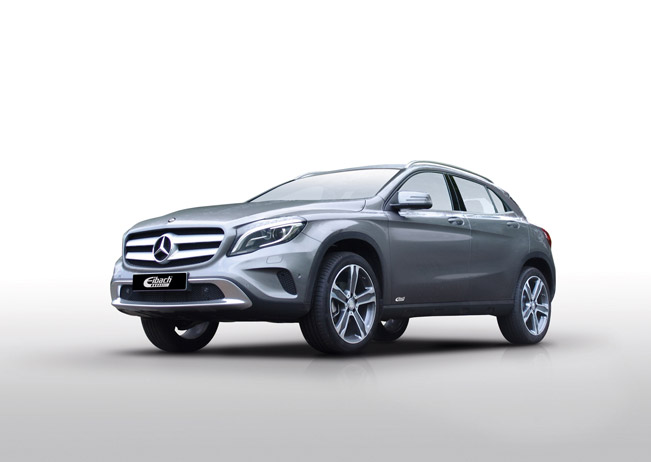 Eibach Mercedes-Benz GLA has even a sportier look. The reason for this is the addition of tuning company's suspension components which take care for vehicle's length. In general the SUV has length x width x height of 4,417 x 1,804 x 1,494 millimeters. This tuning however, gives the driver the opportunity to individualize their vehicle by lowering or raising it.
The firs one is Eibach Pro-Kit Performance Springs. They lower vehicle's centre of gravity and and contribute for better handling. For those who want a more aggressive look, there are available the innovative Eibach Pro-Lift-Kit Performance Lift Springs, which combine dynamics and comfort.
Both kits can be perfectly combined with company's Anti-Roll-Kit Performance Sway Bars. They reduce GLA's body roll and make it more dynamic. What finalizes the tuning of this Mercedes-Benz is the Eibach Pro-Spacer Wheel Spacers. They are made of aluminum and widen the track width.
As a reminder, 2014 GLA has an engine range which includes a 1.6 and 2.0 liter turbocharged petrol engines as well as 2.1 liter four-cylinder diesel engine. The first one powers the GLA200 and produces 156 hp (115 kW) and 250Nm (185 lb-ft) of torque. The second one is found in the GLA 250 model, and delivers 211 hp (155 kW) and 350Nm (259 lb-ft).
GLA 200 CDI and GLA 220 CDI are driven by the diesel engine, which produces respectively 136 hp (100 kW) and 300Nm (222 lb-ft) and 170 hp (125 kW) and 350Nm (259 lb-ft). The GLA 250 equipped with 4MATIC will accelerate from 0 to 100 km/h in 6.5 seconds before reaching a top speed of 233 km/h.
Source: Eibach