Exclusive: 2014 Toyota Corolla Finally Revealed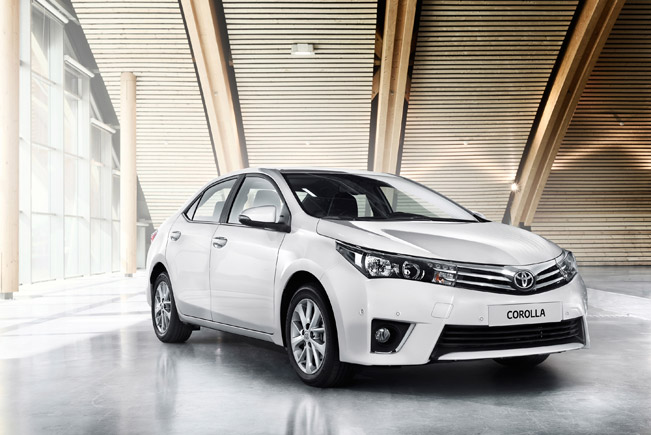 After it has been teased several times so far, 2014 Toyota Corolla has just been revealed in details! The fresh design will offer more style, quality and craftsmanship, while building on the inherent for Corolla reliability, efficiency and function.
In fact this is the new 11th generation of the model and it makes an immediate visual impression thanks to its more expressive, chiseled exterior design that elaborates on the "Iconic Dynamism" – a theme which we have seen on the Corolla Furia Concept.
The new Toyota has more athletic proportions and now rides on a longer wheelbase (+ 3.93 inches/ +100 mm compared to current model) thanks to a basic shape that tapers at the front and rear of the vehicle to help emphasize the wheel arches and wheels-to-the-corner stance.
The new Corolla features an expressive front fascia with sharper, more pronounced details above a large trapezoidal grill that rests beneath a thin intake inlet below the hood.
Basic Exterior Dimensions Compared to Current model (change in parenthesis)
Overall length
182.6 in. (+3.90 in.) 183.1 for S-grade
4639 mm (+99), 4650mm for S-grade
Overall width
69.9 in. (+0.63 in.)
1776 mm (+16)
Overall height
57.3 in. (-0.39 in.)
1455 mm (-10)
Wheelbase
106.3 in. (+ 3.93 in.)
2700 mm (+100)
Front Overhang
37.7 in. (+0.90 in.)
958 mm (+23)
Rear Overhang
38.6 in. (-0.94 in.)
981 mm (-24)
The front view of the new Corolla reveals a continuation of the design themes seen in recent Toyota sedans such as Camry and Avalon, and it creates a sleeker, more assertive impression of a Toyota compact sedan with its more precisely sculpted surfaces.
The sleeker image of the Corolla, the thick structure of conventional headlamps, the compact LED lamp assemblies which now come as a standard, are some of the new elements featured in the design.
When looked from the side, this Toyota's athletic profile reveals door handles that have been sculpted into the body to align with a character line that spans the length the door surfaces, using a vertically asymmetrical door handle design. In addition, the new C-pillar features a "faster", longer sloping angle. The rear is accentuated by large, sharply-sculpted rear taillight assemblies.
Basic Exterior Dimensions Compared to Current model (change in parenthesis)
Overall length
182.6 in. (+3.90 in.) 183.1 for S-grade
4639 mm (+99), 4650mm for S-grade
Overall width
69.9 in. (+0.63 in.)
1776 mm (+16)
Overall height
57.3 in. (-0.39 in.)
1455 mm (-10)
Wheelbase
106.3 in. (+ 3.93 in.)
2700 mm (+100)
Front Overhang
37.7 in. (+0.90 in.)
958 mm (+23)
Rear Overhang
38.6 in. (-0.94 in.)
981 mm (-24)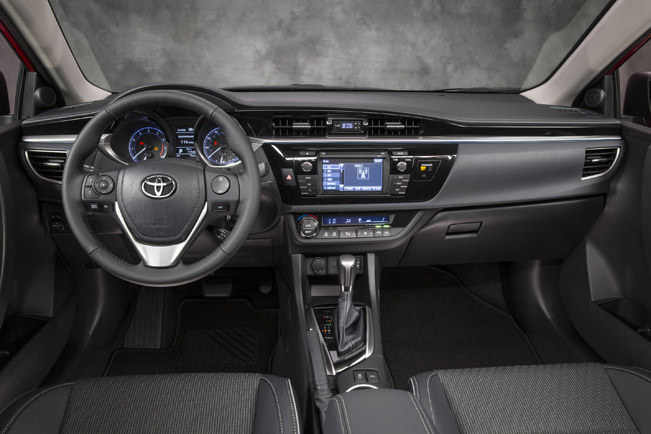 The "Iconic Dynamism" theme is continued as a design philosophy throughout the interior as well. It results in a stylish, highly functional, and inviting interior space made with craftsmanship sophisticated materials and attention to detail.  Moreover, the interior includes a piano-black gloss trim highlighted by metallic ornamentation and trim that conveys an upscale yet sportier image.
Blue, black or amber pinstriped accents are utilized in conjunction with the dash and door panel ornamentation. Ornamental stitching along the leading edge of the dash pad is also present. And the available decorative boot with ornamental stitching surrounding the shift lever contributes to a sportier and premium look.
The increase in exterior size, leads to the same in terms of the dimensions of the coupe inside. This results in better comfort for the passengers and a considerable legroom for the rear seat occupants. Additionally, the rear seat comfort is also improved by denser urethane pads and foam inserts within the seats.
The acoustic glass windscreen, improved floor carpet insulation, an instrument panel seal between the cowl and the windshield, a fender sound insulator, and an inner dash silencer pad all serve in terms of bringing about more quietness. In this way the environmental noise, the road and engine sounds entering the cabin are reduced.
The new models standard gauge cluster includes three dials with sharp image detail and clear blue illumination, surrounded by chrome trimmed rings. Within the speedometer dial is a multi-information display. It shows information such as the current fuel consumption, the average fuel consumption, the cruising distance and the average vehicle speed. In addition there is a S-grade meter cluster which offers a high technology feel with a 3.5-inch black and white TFT display.
As expected the new 2014 Toyota Corolla is going to be available in four distinct grades: L, LE, S, and the new LE Eco grade. Although all of them offer versatility, they have also some features as a standard. Such are the LED lowbeam headlamps with LED daytime running lights, an in-glass AM/FM antenna, color-keyed outside door handles, color-keyed outside mirrors, a 60/40 split fold-down rear seat, power door locks with automatic locking feature, power windows with driver-side one-touch up/down, air conditioning with pollen filter, Bluetooth connectivity and eight airbags.
On the other hand in the range of optional features are present the Smart Key System on front doors and trunk with Push Button Start, auto air-conditioning with pollen filter, leather-trimmed tilt/telescopic three-spoke steering wheel with paddle shifters and audio controls, Multi-Information Display, Bluetooth hands-free phone voice-command controls, SofTex™-trimmed heated front seats, and a range of audio capability that will offer navigation and Entune™ apps accessible through the head unit.
The fuel economy was priority in the development of the engines. 2014 Corolla LE Eco model for instance targets an estimated EPA highway fuel economy rating of over 40 mpg thanks to its 1.8-liter engine with Valvematic technology, low rolling resistance tires on 15-inch wheels and the efficient CVT. The model is also offered with an available 16-inch aerodynamic alloy wheels.
In addition, the airflow has been refined and now the turbulence over the front and rear edges of the car is reduced. The Corolla's underbody features a smoother. In fact, both the LE Eco grade and S grade deliver strategically placed vehicle under covers located below the bumper fascia, engine, front floor, rear floor, and fuel tank. This helps managing the airflow under the vehicle for improved efficiency.
What is more, the new Toyota model is going to be offered with two efficient 1.8-liter, all-aluminum four-cylinder engines. The standard unit is the 1.8-liter with VVT-i and it is available on the L, LE, and S grades. It is rated at 132 horsepower (97 kW).
On the other hand the LE Eco trim level is equipped with a 1.8-liter engine with Valvematic. The latter is a valve train technology that offers a broader range of continuously variable valve timing (lift and phasing) in order to deliver optimal intake valve (not on exhaust side) operation relative to engine demands. The output of this engine is estimated at 140 horsepower (103 kW).
2014 Corolla Engine Specifications
Engine Type
2ZR-FE
2ZR-FAE
Number of Cylinders/arrangement
4 cylinders, in-line
4 cylinders, in-line
Valve Mechanism
16-valve DOHC with Dual VVT-i
16-valve DOHC with Valvematic
Bore x Stroke mm
80.5 x 88.3
80.5 x 88.3
Displacement c.c.
1798
1798
Compression Ratio
10.0:1
10.6:1
Fuel System
EFI
EFI
Max Output
132 Hp/ 6000 rpm
140 Hp/6100 rpm
Max Torque
128 lb-ft/ 4400rpm
126 lb-ft/4000 rpm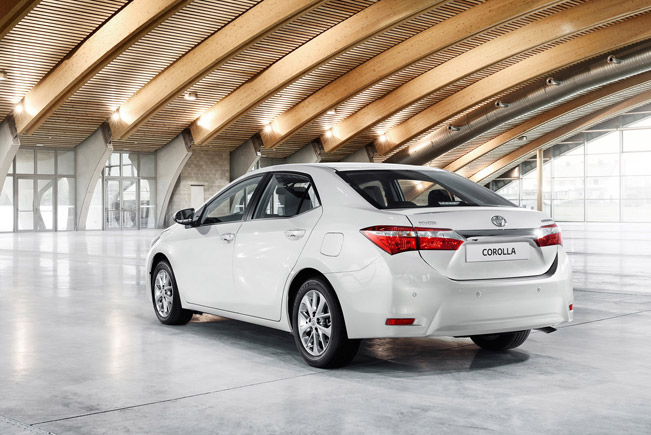 Furthermore, the fuel efficiency is further optimized by the advanced Continuously Variable Transmission. This CVTi-S is going to be available on the LE, S, and LE Eco models. As a matter of fact, with this transmission now the new Corolla has improved drivability.
All of the models that are to be equipped with the CVTi-S offer the capability of either an ECO or SPORT driving mode. The first one makes accelerator control become non-linear to suppress the vehicle's response to choppy driving and contain acceleration from standing start to help reduce fuel consumption.
Next, the SPORT mode delivers a more dynamic driving experience with software tuning that alters shift points, creating transmission behavior during acceleration that enhances the sporty character of the S-grade.
All of the customers who are going to opt for the 2014 Corolla S equipped with CVTi-S are going to receive steering wheel mounted paddle shifters which are going to make fast, sequential, stepped shifts through "7-speeds" to help enhance the driving experience. The base model Corolla L on the other hand is going to be offered as a standard with a four-speed automatic transmission or a six-speed manual transmission as an option. The latter is also optional on the Corolla S.
2014 Corolla offers also enhanced handling and steering thanks to a rigid unibody. The latter also benefits from an improved suspension tuning. The utilization of high tensile-strength steel allows for reduced thickness and maximizes the shape of structural panels while enhancing the strength to help improve collision performance.
To be more precise, the new Corolla's suspension utilizes Macpherson strut design for the front with a new, more rigid control-arm design. A rear torsion beam arrangement is used for the rear.
In addition, the S-model comes as a standard with 17-inch wheels and features unique coil, damper, and bushing tuning to deliver a sportier driving characteristic.
The new Corolla also includes an electric power steering system. The braking system includes a 10.82-inch (275-mm) ventilated front disc, and either a 10.19-inch (259-mm) solid rear disc (available on S-grade) or nine-inch (229-mm) rear drum (all other grades).
2014 Corolla is also equipped with Toyota's Star Safety System™ as a standard, which includes Vehicle Stability Control (VSC), Traction Control (TRAC), Anti-lock Braking System (ABS), Electronic Brake-force Distribution (EBD) and Brake Assist. It also features the standard Smart Stop Technology brake-override system and an electronic tire pressure monitoring system.
The wheels and tyres combination for the different grades is the following. 15-inch wheels with covers can be found on L and LE Eco grades, while the 16-inch steel wheels with covers – on the LE and S trims. The 16 inch aluminum wheels are specifically made for the LE, the 16-inch aluminum design is unique to the Eco grade and the 17-inch alloy wheels - to the S grade.
Moreover, the 15-inch wheels with covers are matched with the low rolling resistance 195/65R-15 tyres, while the sportiest grade of Corolla S that wears the available 17-inch alloy wheels covers in more performance oriented 215/45R-17 rubbers. The 16-inch wheels found on the LE and the 16-inch aluminum aero-wheel on the LE Eco model use a 205/55R-16 tyres.
2014 Toyota Corolla's pricing, final grade content, and option packages will be announced closer to launch.