2012 Smart ForTwo Price - € 10 275
Smart ForTwo has received a brand new facelift thus giving it striking new look, featuring an upgraded exterior and a fresh leather/fabric mix in the interior. It now has even more dynamic appearance, featuring a larger radiator grille with integrated logo, striking front aprons in a new design, horizontally arranged LED daytime driving lights, muscular side skirts and modified rear aprons. The chrome-coloured logo is now positioned straight on the black radiator grille. Moreover, the air inlets under the number plate have been combined into a single unit. The new, optionally available LED daytime driving lights are now arranged in horizontal fashion. There is also a choice of three new alloy wheels: the smart fortwo passion comes with a new 9-spoke alloy wheel; two additional alloy wheels fitted with wide tyres and featuring a 3-spoke and 3-twin-spoke design respectively round off the range. In addition, the choice of colours includes seven different options. , including matt anthracite for the first time.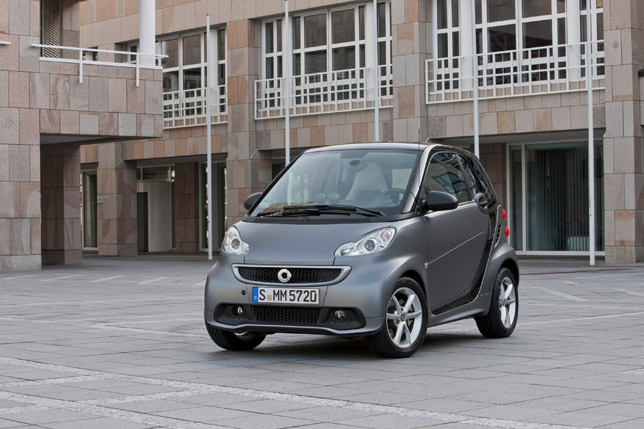 Although the general focus here is on the exterior, there are changes inside the car as well: new, high-quality interior package in crystal grey, including a fresh leather/fabric combination for the seats, an imitation leather/fabric mix for the door trims and black imitation leather for the instrument panel in combination with a grey knee pad.Thee front grille and the rear trim strip are in silver, while the front spoiler, side skirts and rear apron are painted in the car's exterior colour.
2012 smart fortwo will continue to be available as a coupé and cabrio version and with six engine and motor variants. The spectrum ranges from the environment-friendly electric power train in the fortwo electric drive and the efficient micro hybrid petrol engine through the powerful turbo petrol engine to the fuel-efficient cdi turbodiesel. Prices begin at € 10 275 for the smart fortwo 45 kW mhd pure.
Here is an overview of the engine range:
Model type
cc
Output kW/hp
Maximum torque
l/100 km
CO2 g/km
0-100 km/h

(s)

Top speed km/h
Purchase price in € (incl. 19% VAT)
smart fortwo 40 kW cdi
799
40/54
130 Nm
3.3 (3.3)
86 (87)
16.8
135
from 12 095
smart fortwo 45 kW mhd*
999
45/61
89 Nm
4.2 (4.3)
97 (98)
16.8
145
from 10 275
smart fortwo 52 kW mhd
999
52/71
92 Nm
4.2 (4.3)
97 (98)
13.7
145
from 10 835
smart fortwo 62 kW
999
62/84
120 Nm
4.9 (4.9)
114 (115)
10.7
145
from 12 885
smart fortwo 75 kW BRABUS
999
75/102
147 Nm
5.2
119
8.9
155
from 17 220
smart fortwo electric drive
-
35 kW constant 55 kW peak
130 Nm
-
-
< 13
> 120
under 19 000
The smart fortwo is available for ordering now. The first vehicles will reach dealers at the beginning of April.
Source: Smart