Feeling the Need For Speed? new Renault Megane Coupe races into a (virtual) world of its own
On 21 November 2008, several weeks ahead of its official launch, video game fans will be the very first to get behind the wheel of Renault's striking New Mégane Coupé. Albeit only on screen, gamers will be able to enjoy the sight and sound of the French marque's rakish three-door from the comfort, and relative safety, of their own living room as it takes to the streets in the latest edition of the phenomenally successful Need for Speed franchise, entitled Need for Speed Undercover.
Renault and the world's leading video game publisher, Electronic Arts, have been working together for nearly a year, bringing their different worlds together around a common passion: cars.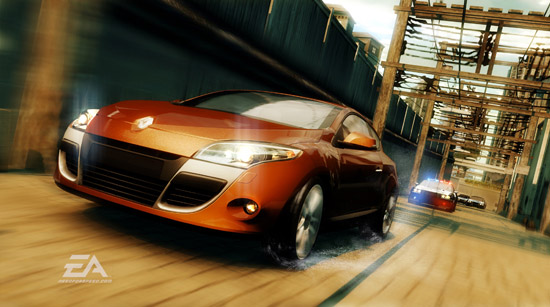 Sharing the tarmac with the likes of the Audi R8, BMW M6 and Porsche 911 GT2 in the new game, New Mégane Coupé can be driven by players as they dart through speedways and chase rivals in the high-speed action along more than 80 miles of road in the Tri-City Bay Area, during their undercover operations to take down an international crime syndicate.
In spite of what is likely to be a relatively modest price tag at its launch in January 2009, the racy and sporting lines of the New Mégane Coupé convinced the developers of Need for Speed to integrate it into its prestigious catalogue of the world's most beautiful cars. The developers have since been working from information provided by Renault for nearly a year to recreate the characteristics and behaviour of the New Mégane Coupé in the game. The result, in terms of graphics, power and handling, is prodigious realism. The new heart of the game's physics, the Heroic Driving Engine delivers breathtaking driving sensations.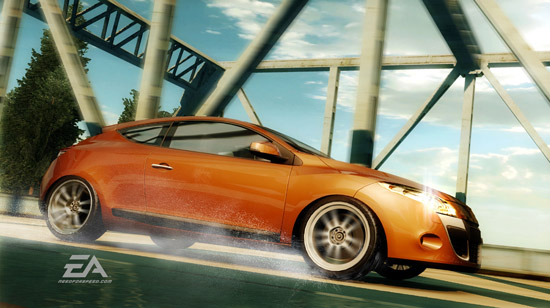 Born 14 years ago, Need for Speed evolves every year to bring gamers ever more street-racing emotion. With its prestige cars, unequalled graphic and technical qualities, it is the undisputed action driving franchise for gamers everywhere. Need for Speed is developed and published by Electronic Arts, the world-leader in video games, whose titles are always pushing the envelope of innovation and immersive intensity.
New Mégane Coupé to make UK show debut at MPH Show As part of the tie-up, Renault's seductive new coupé will be exhibited alongside the Need for Speed Undercover stand at the MPH Show featuring Top Gear Live at both Earls Court (30 October to 2 November) and NEC Birmingham (13 to 16 November).