2016 Ferrari 488 Spider Has it All: 661HP and Entirely Retractable Hard Top [VIDEO]

2016 Ferrari 488 Spider has just been launched. This is company's most powerful mid-rear-engined V8 car, which is fitted with patented retractable hard top (RHT). As a matter of fact, Ferrari was the first car manufacturer to introduce the RHT to the automotive market. As a result, there are around 25kgs saved and more comfort for the occupants in the cockpit.
In addition, 488 Spider is equipped with the highest level of technological innovation. Ferrari says that it has designed every inch of it with exclusive technological benchmarks for the sector. Examples are the aluminium spaceframe chassis and bodyshell as well as the V8 powerplant.
Aerodynamics
Very important about this Ferrari is that it is the most aerodynamically efficient Spider model ever built by the company. The engineers have taken care to ensure that there is optimal downforce and minimum drag at the same time.
SEE ALSO: Ferrari 488 GTB Debuts in Tokyo
This has been achieved through the addition of a blown spoiler and an aerodynamic underbody with vortex generators. In terms of air flow, Ferrari technicians have decided to take more seriously the in-car comfort, making the electric glass rear wind stop adjustable in three positions.
Aluminium Spaceframe Chassis

RHT was the main point for the start of the design of the car. Using spaceframe chassis made of 11 different aluminium alloys and other metals, this allowed for achieving the same torsional rigidity and beam stiffness figures as the coupe variant. In addition, this highly sophisticated chassis also improved performance by 23%.
How the RHT works in practice? The retractable hard top folds backwards in two overlapping sections. It eventually rests on the engine in a very compact way. All in all, the RHT needs only 14 seconds to fully retract or deploy.
The Heart of Ferrari 488 Spider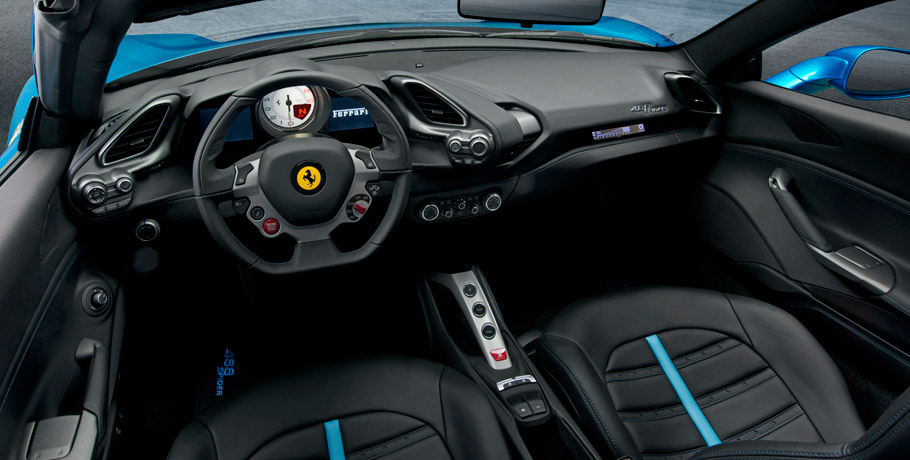 The driving force of this powerful vehicle comprises of 3902 cc turbo-charged V8 engine. We have seen it already debuting on the 488 GTB. Performance-wise it produces no less than 661HP (486 kW) and 760 Nm (561 lb-ft) at 3000 rpm. If you wonder about the acceleration, this immense force sends the Ferrari from 0 to 100 km/h in 3 seconds and from 0 to 200 km/h in 8.7 seconds.
The Heart of 2016 Ferrari 488 Spider Beats with 661HP!
How about the soundtrack? In line with Ferrari tradition, the 458 Spider has unique soundtrack created via the exhaust headers with longer piping and a flat-plane crankshaft.
Official Debut in Frankfurt
If you want to see the real-life debut of Ferrari 488 Spider and you are somewhere near Frankfurt, Germany, then you should definitely visit the Frankfurt International Motor Show in September. But first, don't forget to check out the promo video and detailed specifications below.
2016 Ferrari 488 Spider Specifications: 
ENGINE:
| | |
| --- | --- |
| | 90° V8, turbo-charged, dry sump |
| | 3902 cc (238.1 cu. in) |
| | 86.5 x 83 mm (3.4 x 3.3 in) |
| | 492 kW (670 cv) at 8000 rpm |
| | 760 Nm at 3000 rpm in VII gear |
| | 172 cv/l (2.07 kW/cu. in) |
| | 9.4:1 |
 PERFORMANCE:
| | |
| --- | --- |
| | > 325 km/h (203 mph) |
| 0 – 100 km/h (0 – 62 mph) | 3.0 s |
| 0 – 200 km/h (0 – 124 mph) | 8.7 s |
| | 10.55 s |
| | 18.9 s |
| | 2.12 kg/cv (6.35 lb/kW) |
 DIMENSIONS AND WEIGHT:
| | |
| --- | --- |
| | 4568 mm (179.8 in) |
| | 1952 mm (76.9 in) |
| | 1211 mm (47.7 in) |
| | 2650 mm (104.3 in) |
| | 1679 mm (66.1 in) |
| | 1647 mm (64.8 in) |
| | 1525 kg (3362 lb) |
| | 1420 kg (3131 lb) |
| | 41.5% front – 58.5% rear |
| | 230 l (8.12 cu. ft) |
| | 78 l (22.7 US gallons) |
TYRES:
Front                                     245/35 ZR20 J9.0
Rear                                      305/30 ZR 20 J11.0
BRAKES:
Front                                   398x223x36 mm (15.7 x 8.8 x 1.4 in)
Rear                                    360x233x32 mm (14.2 x 9.2 x 1.3 in)
TRAMISSION AND GEARBOX:
7-speed F1 dual-clutch transmission
ELECTRONICS CONTROL:    
E-Diff3, F1-Trac, High-Performance ABS with Ferrari Pre-Fill, FrS SCM-E, SSC
CONSUMPTION:
CO2 EMISSIONS :
Video Source: YouTube
Source: Ferrari