Ferrari F12 Berlinetta - Options List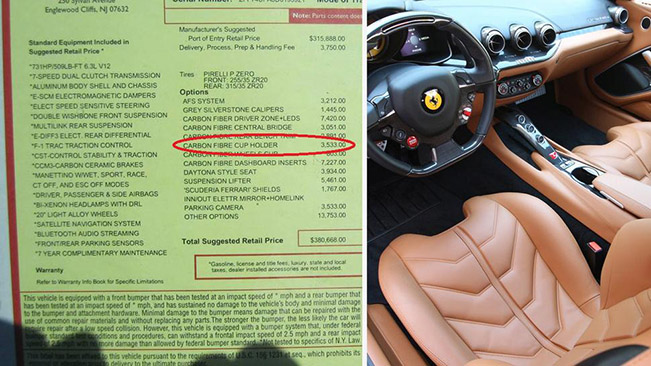 Ferrari cars are not for everyone, because they are too expensive to buy and to maintain. This is especially true for the F12 Berlinetta, which is the newest and most powerful Ferrari, ever. The starting price is $315,888, but the optional extras are insanely expensive.
This particular order form for such car shows, how the price easily increase to over $380k just for several additional extras. As the author of the picture showed one of the most ridiculous options is the carbon fiber cup holder for whopping $3,533 – this is too much even for billionaires. There are also other unnecessary extras like carbon fiber dash inserts for $7,227, carbon fiber bridge for $3,051  and grey-painted brake calipers for $1,445.
Everybody admits that the F12 Berlinetta is one of the best sports cars in the world, but these prices just can ruin the whole idea!
Source: Carbon Mccoy