Ferrari F12tdf Is Here to Honor Its Predecessors

Ferrari reveals the F12tdf vehicle that plays homage to the Tour de France, the notorious endurance track that Ferrari team domianted back in the 1950's and 1960's. And in 1956 the team demonstrated the 250 GT Berlinetta which won four consecutive events. It was simply the most advanced and flexible car back then. It combined driveability and performance, along with toughness and endurance. And now the F12tdf is the ultimate expression of concept that would dominate every extreme track. And by the way, there will be just 799 produced.
The F12tdf will blend within itself all the technical innovations with Ferrari's DNA: powerplant, aerodynamics and flexibility. Definitely the result shows that this machine will be second to none.
The heart of the beauty is a naturally-aspired V12 unit that is in fact a multi-award-winning engine. Furthermore, vehicle's dynamic systems allow better acceleration, stability and has a 8 percent increase in the ratio of the front tires, compared to the rear ones. In fact, as we talk about wheels, this particular model comes with the innovative rear-wheel steering system: the Virtual Short Wheelbase. It ensures improved wheel response and increases stability at high speeds. In fact, the F12tdf also offers and the dramatic 87% increase in the downforce.
SEE ALSO: An Unique 1994 Ferrari F40 Looks For Its New Owner
Furthermore, the dramatically restyled body, interior and drivetrain system brings not only improved flexibility and power, but also a total of 110 kg off the car's overall weight.
Drivetrain system
The incorporated V12 that was further tweaked and tuned now offers a maximum power output from 740 cv to780 cv at 8,500 rpm. And the maximum torque is now 705 Nm at 6,750 rpm. This unit is paired to a specific version of the F1 DCT that offers 6% shorter gear ratios and 30% faster upshifts. This whole configuration allows the vehicle to go from 0 to 100 km/h (62 mph) in just 2,9 seconds and from 0 to 200 km/h (111 mph) in 7,9 seconds.
Style
Designed by the Ferrari Styling Centre Team, theF12tdf has elegant and sensual forms as a product of Ferrari's impeccable sense of beauty and design.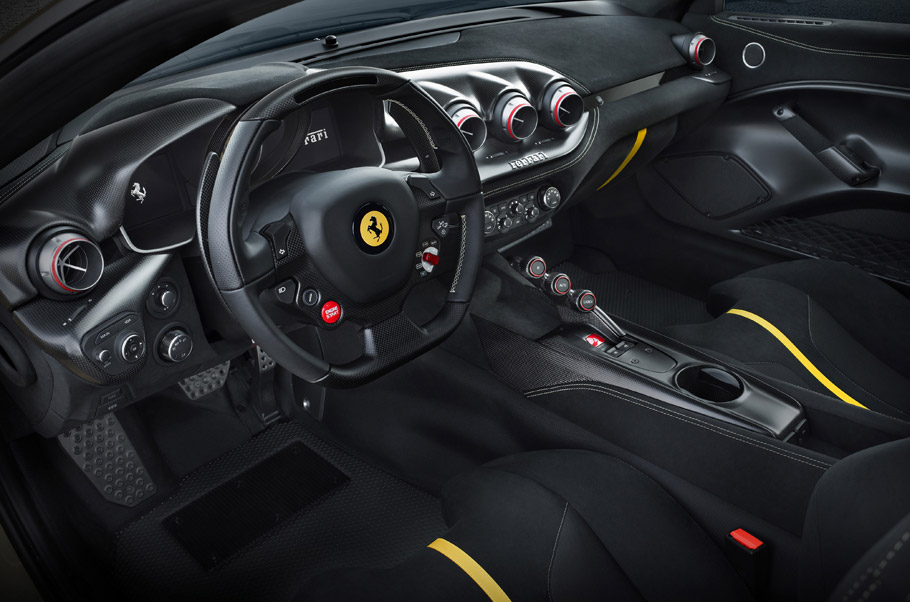 Generally the machine comes with a wider front and more aggressive stance. And maybe one of the most notable additions in this model is the evolution of the Aerobridge which further enhanced by the carbon-fiber elements. This whole combination results on rich details and neat aesthetics.
The uncompromising luxury appearance is even further enhanced by the Spartan cockpit. It has this wrap-around effect. Alcantara leather is chosen over tradition leather this time and the aluminum sheets replace the floor mats.

Surely, this machine is a 100% Ferrari. You can tell by the looks, style, performance and overall elegance.
Source: Ferrari