Ferrari LaFerrari XX Prototype at the Monza Race Track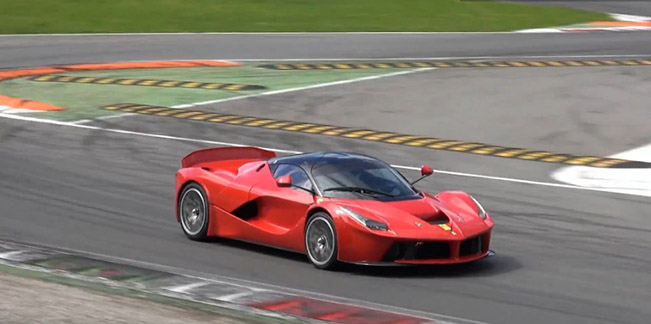 Here is an awesome video published by NM2255 on Youtube featuring the highly-anticipated Ferrari LaFerrari XX. The hyper-car has been filmed during a test drive on the famous Monza circuit. The model will be limited to just 30 units with pricing starting from somewhere around €2,000,000.
The LaFerrari XX sounds just brilliant and goes extremely fast around the race track. Still, after a few laps, typically for a Ferrari something went wrong and that caused one of the rear tires to go in other direction.
Still, there is no information for the XX model, but it will come with improved aerodynamics, upgraded electronics, a sportier suspension and racing tires. The car will be track-only toy and a very expensive one.
As a reminder, the "normal" 2013 Ferrari LaFerrari is powered by a 6.3 liter V12 with 800HP (588 kW) at 9,250RPM an 700Nm (519 lb-ft) at 6,750RPM. With the help of HY-KERS, the overall power is whopping 963HP and over 900Nm of torque. 0-100 km/h in under 3 seconds, 0-200 km/h in 7 seconds and 0-300 in breath-taking 15 seconds. A lap around Fiorano race circuit takes just 1 minute and 20 seconds – 5 seconds faster than the Enzo and over 3 seconds faster than the F12berlinetta. The XX model is expected to be a lot faster.
Recently, a tuning company called JMB boosted LaFerrari to 1050HP thanks to an ECU re-map, so we expect the new XX to be at least that powerful.
Enjoy the impressive sound!
Source: NM2255 Car HD Videos