Ferrari Shows the Exclusive F60America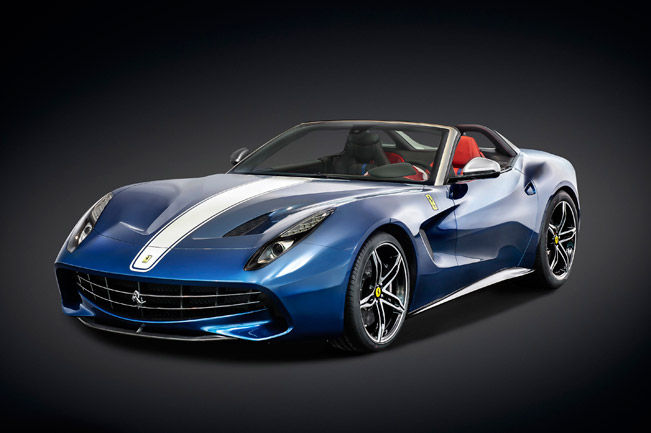 This year marks the 6oth anniversary since a Ferrari model has stepped on North American ground. To celebrate this, Maranello has returned to its 1950s and 60s tradition of producing strictly limited edition cars. As a result the company is currently presenting the Ferrari F60America, which will be produced in only 10 examples. Furthermore, the car combines the two of the greatest passions Americans have: the V12 engine and open-top driving. F60America will be revealed tomorrow evening at an anniversary celebration gala dinner at Beverly Hills City Hall.
Just 10 F60Americas will be built, and this is an example take directly from the1967 275 GTS4 NART Spider that was specifically requested from Enzo Ferrari for his US clients. As mentioned, the car is driven by Ferrari's award-winning mid-front-mounted V12 which enables the car to accelerate from 0 to 100 km/h in just 3.1 seconds.
The personality of the car is instantly clear from its flanks which are characterised by an innovative diapason design theme. At the front, this Ferrari features the classic Ferrari single front grille with chrome finish and integrated air intakes for the brakes.
A couple of leather-trimmed roll-hoops are backed by carbon-fibre-trimmed flying buttresses that stretch from behind the cockpit to the rear. The driver's area is emphasized via cabin's asymmetrical design. At the same time the passenger side is decided in black and inspired by the historic Ferrari competition cars.
Furthermore, the cabin trim is exclusive with the dash, tunnel and door panels on the driver's side all swathed in composite materials. The racing seats also include a stylised American flag motif on the centre of each seat and backrest.
What first strikes the viewer is that the F60America's bodywork has adopted the classic North American Racing Team livery. It also features the special Ferrari 60th anniversary Prancing Horse badge on the wheelarches and on the tunnel in the cabin.
Source: Ferrari