First teaser for "BLACK AIR: The Buick Grand National Documentary" released
If you haven't heard already about the "Black Air: The Buick Grand National Documentary", well it is a 60-minute film about Buick's premier but paradoxical mid 80's performance car. The film is to be released soon; nevertheless the teaser for it has just been released.
The director of the awaited movie is Andrew Filippone Jr., who had the inspiration to create the documentary about the Buick Regal Grand National. It was a strange and peculiar misfit.
Although it carried the name Buick, the Grand National was too quick and too rough to stay under this name. There was something about it which made it stand out among other cars.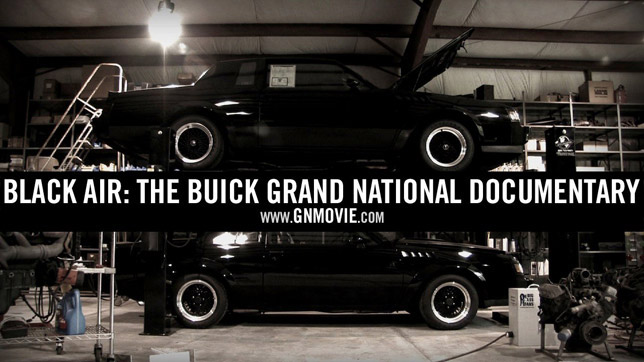 "Black Air: The Buick Grand National Documentary"
Despite the fact that it had roots of the Buick Regal, it was able to have an astonishing straight-line 0-60 mph acceleration. Nothing in the mid 80s could match it. However, the same roots didn't give the vehicle a chance to be accepted seriously.
Its emblematic boxy design was something very typical for example. Other shortcomings were its mediocre chassis, an undersized engine, an electronically limited top speed, and an unremarkable pedigree.
On the other hand its six cylinders and an intercooled turbo made the vehicle remarkable. Remembered with its fierce black paint, the Grand National became a legend. In fact, in the fineal year of the production of the Buick, outfitted in GNX trim, it was the quickest production car in the U.S. It was able to reach the acceleration sprint from 0 to 60 mph in only 4.7 seconds.
Although no one believed that it could achieve this acceleration, test after test proved it. But there remained the question, how could a Buick achieve this. Where did it come from? Where did it fit?
The documentary answers those questions and even more. The people who built the car, who wrote about the car, and who own the car, speak about and about their experience with the Grand National.
Some of the included voices are Lloyd Reuss, the Buick General Manager who launched the Grand National project; Tony Assenza, the "Car and Driver" Editor who dubbed the GNX an "ax-wielding barbarian"; and Richard Clark, the renowned owner, enthusiast, and collector.
The last example of the Grand National was built on 11th of December 1987, and twenty-five years later, Black Air arrives to commemorate this landmark car.
News and Video Source: Vimeo