Ford Edge Concept Prepared For European Market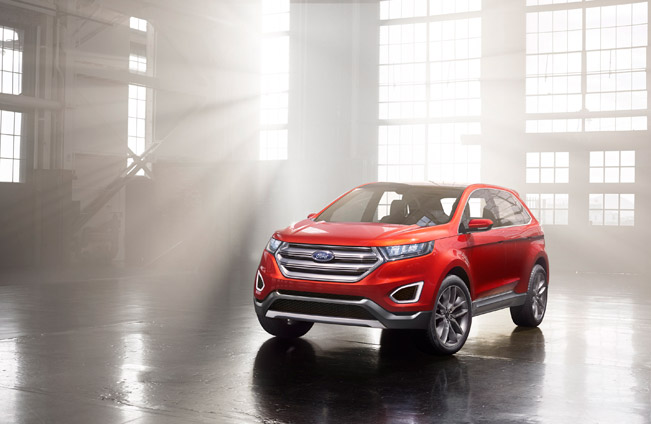 Ford has exclusively unveiled the brand new Ford Edge Concept, giving hints to the technologies included, the design and craftsmanship of the future SUV. Edge Concept also includes some of the most innovative technology features such as push-button and remote-operated parking.
In fact, the Edge will be Ford's first large SUV developed for Europe and will go on sale by 2017. Some of the key attributes of this SUV include sleek and sporty appearance, capability, fuel efficiency and advanced technology.
To be more precise, the advanced features that will be added in the future vehicle comprise of driver-assist technologies and semi-automated ones, which will offer more intelligent and capable driving experience.
For instance, here debuts the Fully Assisted Parking Aid which is still in prototype form. It builds on Ford's Active Park Assist feature and lets the driver park their vehicles at the touch of a button or a remote control. Via ultrasonic sensors, this system finds a perpendicular parking space.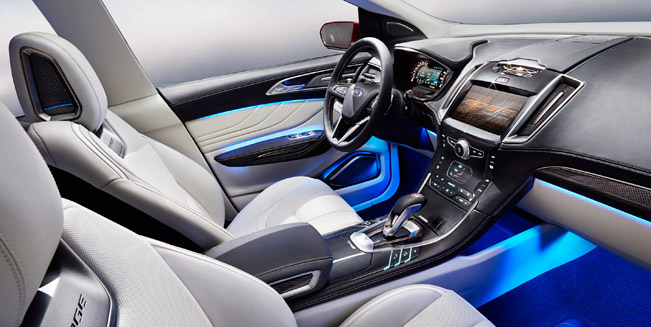 Ford also works on refining its Obstacle Avoidance systems, which can detect slow-moving objects or stationary obstacles in the same lane ahead. In the cases when the driver fails to steer or brake after the warnings, the system automatically steers and brakes to avoid a collision.
As one can see from the pictures below, Ford Edge Concept sports sculpted, fluid and athletic lines. However, it also adds a sense of aggressiveness via its strong shoulders and the rearward slope of the grille.
Furthermore, Edge Concept also includes high-tech application of Active Grille Shutters which contributes towards ideal engine operating temperature and maximization of aerodynamic efficiency. In addition, there are also featured air curtains on the lower part of the front fascia that guide air from the front of the vehicle through the front wheel wells and down the side of the vehicle.
The interior of the car looks as premium as the exterior. Some of the exclusive features here include a leather-wrapped and hand-stitched instrument panel, 10in centre display featuring Ford SYNC with Voice Control and Touchscreen, and a dynamic centre stack with mechanical switchgear. Black Nubuck leather wraps the upper instrument panel, centre console and door elements.
Source: Ford