2014 Ford Falcon XR8 Unveiled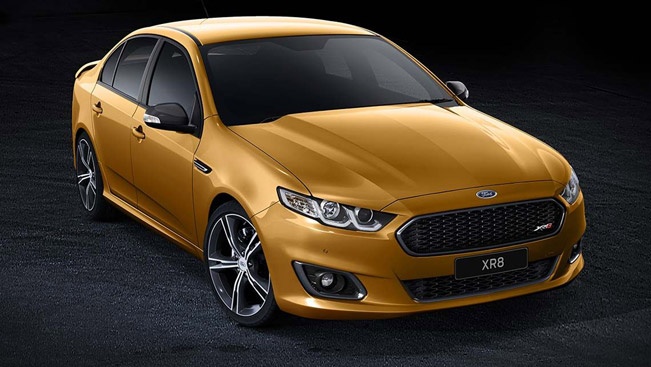 2014 Ford Falcon XR8 performance sedan is an example of how the car's iconic history can be blended with company's new global design DNA. This means that the new Falcon XR builds on its distinctive design but at the same time offers an entirely new personality. The car has just has been revealed and Ford states that this is the best Falcon ever created. The XR6 and XR8 incorporate the new design philosophy of the company via the signature trapezoidal grille, chiseled headlamps and smoother tail-lamps with LED technology. These are the enhancements featured in the 2014 model and will be applied to the entire Falcon range.
Furthermore, the XR8 has bold exterior graphics. As you can see, the front end has received distinct sporty treatment, as well as signature bonnet power dome. The exhaust system was specifically tuned for the V8 engine.
One of the new and distinctive features is the design of the headlights which has a sporty quad-head lamp treatment. XR's slim headlights deliver high-end technical look and include 'hockey stick'-style LED daytime running lamps. In addition, the lens reflectors also get distinctive "XR" shields and there are also unique fog lamp bezels.
The new form of the grille provides more purposeful look and demonstrates the sporty nature of the car. The power dome, which extends up to the windscreen cowl, additionally adds to this nature.
At the rear end of the car, there are jeweled split tail-lamps which accentuate car's wide, purposeful stance. The tail-lamps are brand new and they utilize LED technology. In addition, the boot lid has new design and features an integrated rear spoiler. The lower diffuser on the XR8 includes round quad exhaust tips. 2014 Ford Falcon XR8 will be offered with a choice of three engines: EcoBoost, V6 or V8 petrol.
Source: Ford