Ford Flex And The Nascar Guy
As a chassis development engineer for Ford Racing, Jamail was largely responsible for reviving the Ford NASCAR race program in 1999. And as a vehicle dynamics engineer for Flex, Jamail is on the team charged with ensuring this daring new seven-passenger crossover delivers in driving dynamics.
Jamail recently answered a few questions about his time in NASCAR and his role in the development on the Ford Flex.
How did your time with Ford Racing influence your current work in Ford Flex development?
Work in racing transfers into the tuning of a production car and making it fun to drive. We took the Flex and helped make it into something fun to drive, while at the same time being a family vehicle. My goal with the Flex was to make it drive a lot smaller than it is.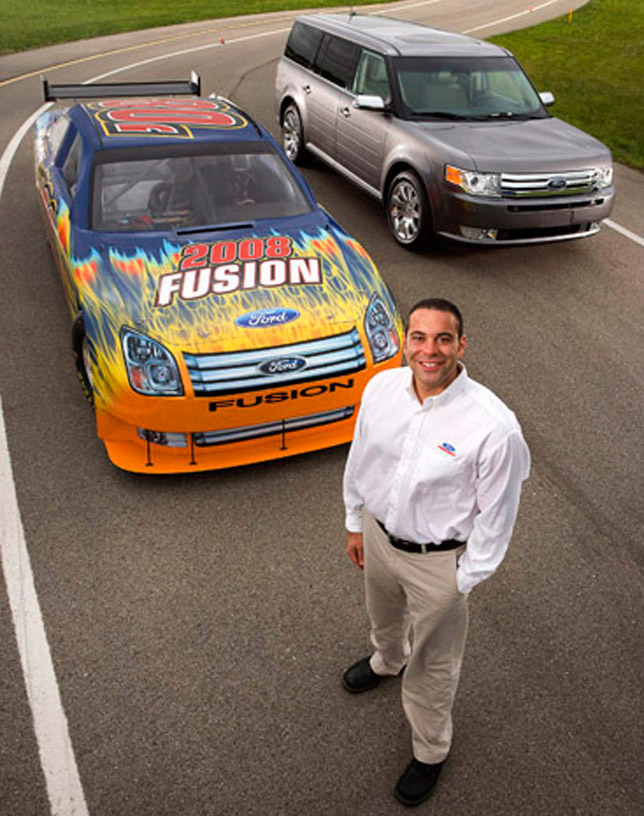 What are you most excited about with the Flex?
What a surprise and delight the Flex is in terms of how it handles. We've done a lot to make the vehicle comfortable and composed in any situation. Whether it's loaded up with seven people or you're driving it by yourself, the vehicle is very capable. I did a good bit of tuning on our handling course to make sure that it was predictable and capable in all situations. My goal was to give Flex a composed and confident ride on a twisty road loaded with passengers while maintaining its comfort and security when cruising on the highway.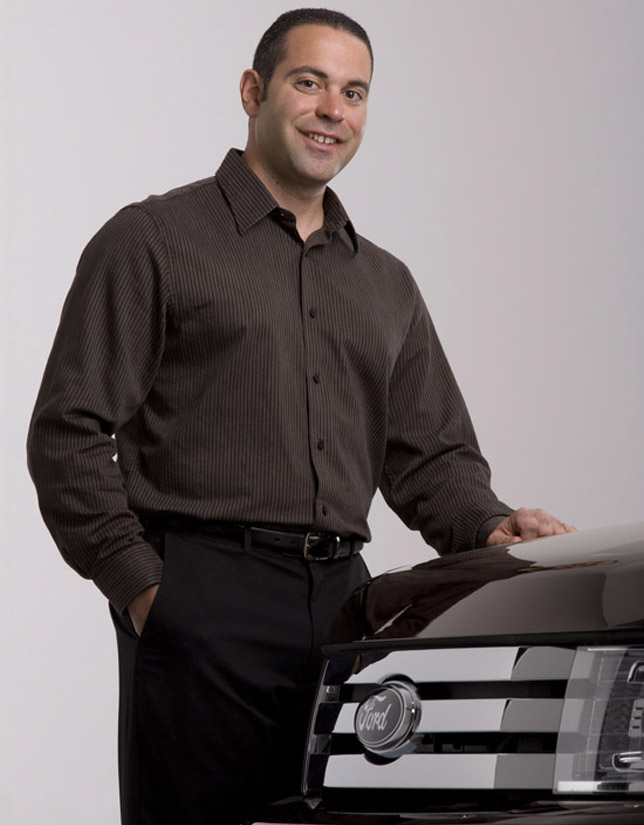 Q:  What technical changes did you make to the Flex to improve its ride and handling?
A: One of the attributes that sets apart the Flex from other crossovers and SUVs with regards to handling is its low body roll or roll gradient. I targeted keeping the Flex as flat as possible in roll to give the driver a greater feeling of confidence in the corners. Through the use of bigger anti-roll bars I was able to achieve a very "car-like" total roll gradient while maintaining good primary and secondary ride characteristics through lower spring rates. With Flex, we were also able to put the shocks farther outboard and closer to the wheels to make them more efficient for an improved 1:1 damper ratio in our new rear suspension. With these combining factors, I was able to create a much better balance between ride and confident and composed handling for our customers.
There's a lot of buzz about this vehicle. Have you experienced any of it personally?
It's extremely exciting. When I was out west tuning in Phoenix, I'd take a Flex home on various nights and have people stop me at stop lights by honking their horn and asking what it was. We had little Ford Flex cards made up that we handed out to potential customers along with the website. We drove around Southern California and stopped in different areas and had people look at the vehicle. It's very exciting for us.
Do you keep up with the racing program?
I do. Pat DiMarco, Ford Racing Technology engineer, calls on occasion to ask me to do some test driving when they need internal Ford dynamic-type testing to figure out. They'll give me a call. I've driven some of their Sprint Cup test vehicles for them at our proving grounds.