Ford Focus ST Prototype
Ford will soon introduce the new version of Focus ST, which will feature unique paintjob, lowered syspension, huge alloys wheels fitted with performance tires and central rear double exhaust.
"The new Focus ST is eagerly awaited around the world, which is appropriate as this is our first global performance model," commented Jost Capito, Ford's director of Global Performance Vehicles.
"It must live up to Ford's reputation for producing affordable yet exciting and sporty versions of its smaller cars that reward and delight enthusiast drivers, but can also be used every day.", he added.
"We've done all the engineering groundwork, and now we're using some of the most demanding roads we can find in Europe and North America to validate and fine tune the performance and driving dynamics.", mr. Capito finished.
The new Focus ST will be powered by a specially developed engine with 2.0 litres of displacement. The EcoBoost power plant will deliver 250PS, while the fuel consumption will be significantly improved.
The drivers will be helped by highly tuned Electric Power Assist Steering (EPAS) system. The new ST will also have driver-orientated seats, sports steering wheel and some other goodies. The car will bring staggering performance and unique driving pleasure.
"Fuel efficiency is a key leadership target for Ford Motor Company globally. We want to be class-leading even with a performance vehicle, so we're working on getting the best possible blend of high power and fuel economy from the new ST," said Matthias Tonn, chief program engineer, Global Performance Products, Ford of Europe.
"We're fine-tuning, testing, and fine tuning again many of the small but critical details to make sure it is worthy of the ST badge," Tonn said.
"We will build upon and improve the ride, steering and handling strengths that defined the current European Focus ST.", he added.
"The seats and seating position were very good in the previous Focus ST, but the new model is sleeker and the driver will sit lower. The new seats which will provide even more support," Tonn finished.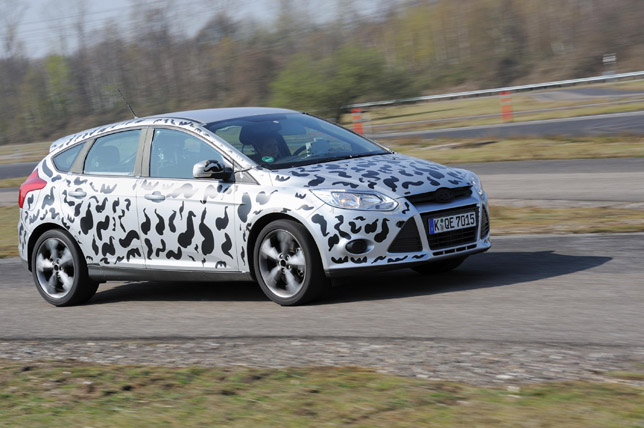 Source: Ford