Ford Model T contest: european entry wins worldwide competition
A century after the Model T put the world on wheels, Ford Motor Company has announced the winners of a global competition that challenged five universities to create a similarly revolutionary vehicle concept.
The only European university to take part – Aachen University's Institute of Automotive Engineering (ika) – has won the challenge and $25,000 in scholarship funds for delivering an innovative concept that embodied the spirit of the Model T and best met the criteria of the challenge.
The core Aachen University team, consisting of eight students and engineers, developed a concept meeting requirements set by Ford:  the vehicle had to be simple, lightweight, practical, and durable, offer a range of at least 125 miles, accommodate at least two passengers and be priced no more than $7,000.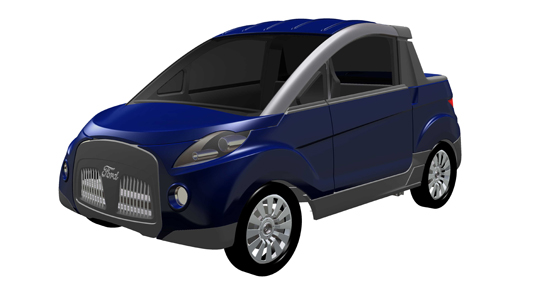 The result is a modular vehicle concept – the Model T for the year 2015 – with an estimated price of $6,780.
The base model is a mini-size pick-up version of a three-seater, with passengers accommodated next to each other. With the driver's seat centrally located, there are no extra costs for right-hand-drive or left-hand-drive versions. Additional weight and costs are saved by making the driver's seat only adjustable.
The vehicle weighs 800kg – increasing if its petrol engine were combined with an electric motor to become a hybrid, or if converted into a battery-powered car.  An electric-only system would cost double that of the standard petrol unit, the Aachen team said.  CO2 emissions would vary between 54 and 100g/km depending on the chosen propulsion system.
"We are very proud, as the only European institute, to have been able to participate in this exciting competition.  Then to top it off with winning is not only very satisfying, but also confirms that German engineers and students have the capability to compete successfully on the international stage," said Professor Stefan Gies, managing director of ika.
Aachen University, as well as the ika, have worked in close co-operation with Ford of Europe for many decades.  In particular, they are working very intensively with the Ford Research Centre in Aachen, which is the only Ford research facility of its type outside the US.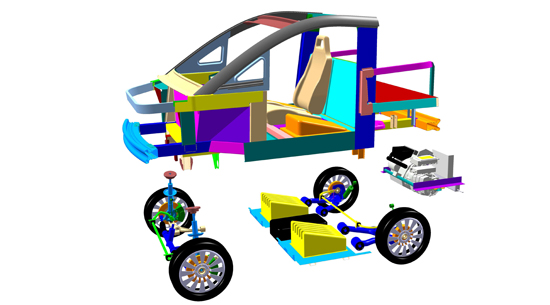 Charles Wu, managing director of Ford's Aachen Research Centre said: "The high quality of their concept impressed us deeply and confirms that Ford of Europe has made the right choice in co-operating with such a strong and capable academic partner."
The Ford jury also named the Deakin University in Melbourne, Australia, as second winner.