Ford Mustang Cobra Jet Twin-Turbo Concept Makes First Appearance at SEMA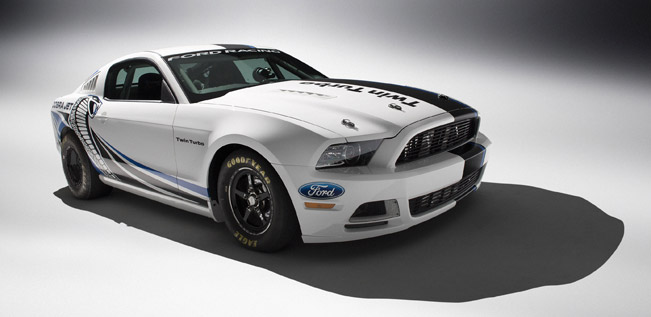 Ford Mustang Cobra Jet Twin-Turbo Concept was just revealed at SEMA, being equipped with turbocharged engine for the first time. And here's "the deal" it comes not with one but two turbochargers.
In fact, every internal combustion engine has a plentiful source of energy that normally goes to waste right out the exhaust pipe. Here the two turbochargers put together the thermal and kinetic energy in the exhaust gases so that they drive turbines and compressors that force more air into the engine for a big increase in power without most of the parasitic losses of a supercharger.
Furthermore, the design of the turbocharger design was brought to reality after a substantial work on the 3.5-liter EcoBoost V6 engine, which we have seen on the F-150 model. And the effect is that this concept has been brought to reality.
However, there's a disadvantage – the lag. Ford has dealt with it by selecting the smallest possible turbos which can give the needed airflow. Other enhancements have been featured as well in order to improve the responsiveness. The result is very low inertia and very low internal friction.
Here the help was offered by Borg-Warner, which has supplied the brand with smaller, more efficient turbochargers based on the units used in the Focus ST for the Cobra Jet concept. They are smaller than those found in most other drag racing applications. In details, the turbine wheels were made from titanium aluminide – a material which reduces the rotational inertia by 50 percent.
Next to be mentioned are the integrated, electronically controlled wastegates, which were utilized on production EcoBoost engines and which enable the turbos continuous spinning. Additionally, they generate the boost pressure needed for low elapsed times and high trap speeds at the strip.
Another advantage here in my opinion is that the Ford Mustang Cobra Jet Twin-Turbo Concept includes unique Racing livery. The white body is accented with an asymmetric black and blue stripe, which runs over the top of the car from bumper to bumper. The Cobra Jet's flanks blend an upward sweeping version of the stripe with the traditional striking cobra head in black with blue accents.
Source: Ford