Ford Mustang by Design World
Ford Mustang appeared in 1964 and became the ancestor of the Pony-Car-Class (Pony-Car-Klasse). Until now, the varieties of such bodies as Coupé, Fastback and Cabriolet is still a sensation due to their appearance. Design-World Company in Sundern which is, incidentally, for more than six years is responsible for modeling station of CarFilmComponents (CFC-Styling Station), gave the originally equipped, a free-living prairie no weak engine with 412 hp an additional power impetus. Now the engine hasas 435 hp with 5-liter capacity. V8 with 6 speed manual transmission of 2011 model year is fully equipped, including Shaker 1000 CD/MP3 sound system. The above mentioned increase in the capacity is achieved byopen air filter with air box (Airbox), as well as software optimization. At the same time, the car speed has been limited, but not as in previous versions. This condition is mandatory for such a wild horse.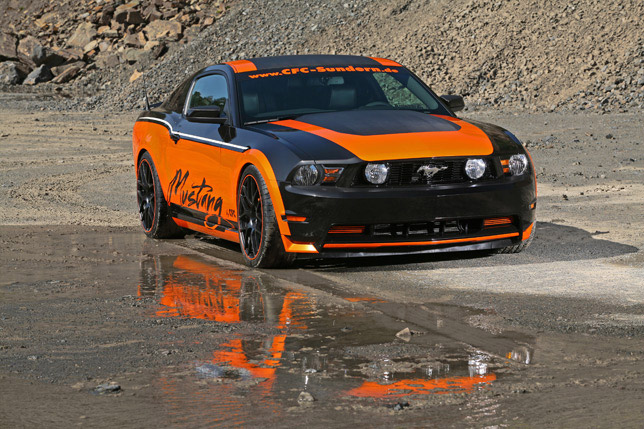 The alloy wheels of 8,5x20 inches with 255/35ZR20 tires on the front axle, and of 10x20 inches with 285/30ZR20 tires on the back axle are actively supported by the thread undercarriage from H&R. But let's move on to the main accomplishment of the Design-World in Sundern: for example, the fact that this company can make your car look different, so no one will confuse it with other models. . For the beginning - the varnishing, including grinding of the plastic parts that were not varnished, such as channel bar, diffuser, radiator and bumper. The black painting of the Mustang GT remained unchanged. The foil finish with contrasting color nuances in metallic black, metallic orange, white, and the carbon foil (CFC-Black-metallic, CFC-Orange-metallic, CFC-White, as well as CFC-Carbon-Strukturfolie-Black).: Who can imagine this free animal in a fast gallop? Without the use of fantasy.
The total cost of the reconstruction of the "CFC-Sundern Mustang Project" is 12.150,00 euro.