Formula Ford laps Nurburgring in 7:22 minutes [HD video]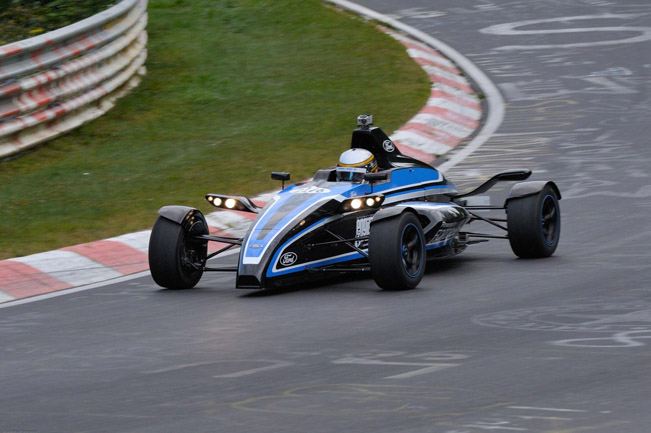 A specially prepared race car by Ford called "Formulla" managed to lap the Nurburgring Nordschleife in 7 minutes and 22 seconds. Another spectacular thing about the vehicle is its engine with only 1.0 liter of displacement.
The one-of a-kind, road-legal version of the latest Formula Ford single-seat racer completed the lap in 7 minutes, 22 seconds to register the 11th fastest time ever on the circuit - a performance that puts it ahead of a host of supercars including the 600+ horsepower Lamborghini Aventador, Ferrari Enzo and Pagani Zonda.
"This little engine has people rubbing their eyes in disbelief," commented racing driver and course specialist Nick Tandy, 28, who completed the drive.
"It's simply astonishing that a 3-cylinder, one-litre engine can deliver that kind of performance.", he added.
The 1.0 liter EcoBoost engine produces 205HP (151 kW), which is enough for top speed of over 255 km/h and acceleration from 0-100 km/h in less than 4 seconds. The car is fitted with a 6-speed manual gearbox and was driven on road-legal tyres.
The vehicle completed the 20.832 km (12.94 mile) Nordschleife circuit at an average speed of 169 km/h (105 mph).
In-house testing also showed the 1.0-litre EcoBoost-powered Formula Ford is capable of extremely frugal fuel economy, delivering 2.4 l/100 km (118 mpg) at 56 km/h (35 mph), and 5 l/100 km (57 mpg) at 120 km/h (75 mph).
Check out the video below!
Source: Fordofeurope