Gemballa Porsche 991 Carrera S GT Cabriolet Brings More Driving Excitement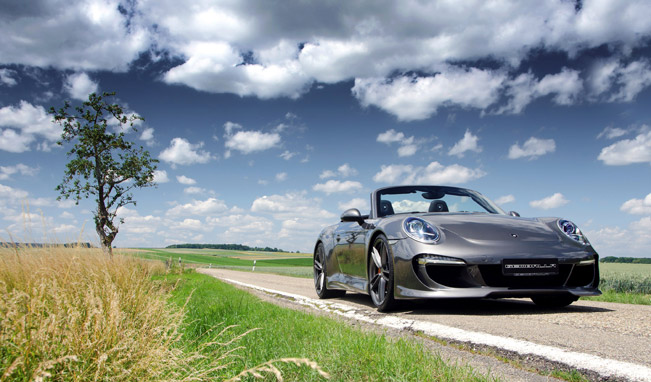 Gemballa Porsche 991 Carrera S GT Cabriolet is the latest "air-cooled" 911 equipped with its familiar flat-six soundtrack. In addition, the featured Gemballa GT package compliments the excitement on the driving experience.
At the core of this tuning is of course Gemballa's GT aerodynamic package. The transformation here begins with new, front bumper/spoiler section with three large cooling air intakes, and large lip spoilers. This results in more stabilizing downforce at speed.
The connection between the new front and the rear is emphasized through the organic lines of the front spoiler, which extend into the deep side skirts of the Porsche. The new rear bumper/valance includes a recessed panel. It has a strong top and bottom horizontal lines, which visually put emphasis to the width of the car.
Other exclusive features contributing to the new visual appearance of the car is the upright reflector lights, which are positioned at each end of the panel and give a functional meaning to its extremities. In fact the new composition gives the Porsche more three-dimensional stance.
A diffuser here sits between Gemballa's stainless steel exhaust system made from stainless steel. The latter has a deep voice thanks to its valve-operated sound control feature and gives the car the soundtrack to match its looks.
All of the featured in the package aerodynamic components are made from top grade carbon-fibre. However, no additional upgrade was made on the motor. Still, even with the standard motor, the Cabriolet is faster from point to point thanks to the improved sports suspension and brakes.
The 30mm shorter springs are calibrated in order to operate with the factory PASM (Porsche electronic damping control system), while the brake system is highly resistant to fade and allows to set later braking points.
At last, this car runs on GForged-one alloy wheels with their choice of "diamond cut" or "gunmetal" finishes in the eye-catching 21-inch diameter size. Thanks to modern forged, lightweight construction, they weigh less than the factory 20-inch wheels, whci results in improved ride and handling.
Gemballa Porsche 991 Carrera S GT Cabriolet Details:
Displacement: 3,800 cc
Power: 400 hp at 7,400rpm
Maximum torque: 440 Nm at 5600rpm
V Max: 301 km/h (299 km/h with PDK)
0-100 km/h: 4.7 s (4.5 s with PDK)
Elasticity (80-120 km/h): 6.2 s
Car body: GEMBALLA GT aerodynamic package
Exhaust system: GEMBALLA sport exhaust system with valve control (choice between three or two tailpipes)
Brakes: GEMBALLA high performance brake system (by Brembo)
Wheels: 21-inch "GForged-one" -one-piece forged alloy in diamond cut or gunmetal finish.
Tyre size: (f) 245/30ZR21, (r) 305/25ZR21 (GEMBALLA recommends Michelin tyres)
Source: Gemballa