Gemballa Says Goodbye to Mirage GT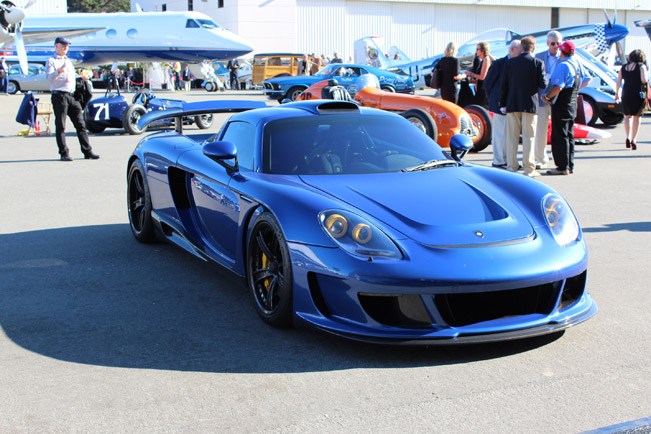 Sadly we have come to the point when there will be only two Gemballa Mirage GTs left. Yes, the run on the last two has begun, because the series is limited to 25 cars and we have already counted to 23. This makes the Mirage a collector's item and its value is going to rise very soon. The legendary car is based on the Porsche Carrera GT, but has more power and exclusivity to show. In terms of appearance, this car almost has nothing to do with the Porsche.
Furthermore, the sports car is powered by the 5.7l/10 cylinder engine, which is uprated from 612 hp (450 kW) to 670 hp (493 kW) and its torque from 590 Nm (435 lb-ft) to 630 Nm (465 lb-ft). What is more: the modified Porsche reaches 100 km/h in only 3.7 seconds on the way to a top speed of 335 km/h.
For the faster acceleration time also contributes the new body kit, which was made of real carbon fibres. In addition, the aprons and the striking rear spoiler raise the surface pressure and keep the car safely on the road, regardless the speed. The three-part air inlet, which stretches across the entire front and the recessed door elements, also stands out.
The engineers at Gemballa also installed a sport-type coupling with special linings. They are perfect for the "stop and go" city driving and make it softer and gentler.
And for those who will miss the Mirage project – don't worry. Gemballa is currently working on its next limited edition series, the first of which will be based on the Porsche 918 Spider hybrid. With its very aggressive silhouette and coming in only 25 examples, it may become even more exclusive.
Source: Gemballa