Exclusive: Gemballa Porsche 980 Carrera Mirage GT Black Edition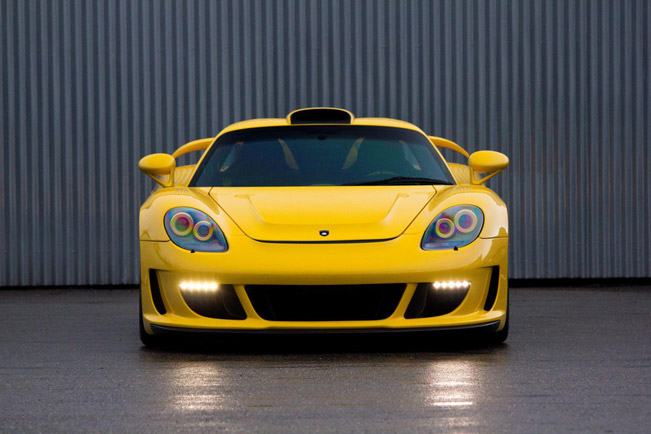 It seems like we have seen already so many yellow vehicles these couple of days. And the Gemballa Porsche 980 Carrera Mirage GT Black Edition is no exception but adds to this tendency.
As we all know the specialist from Gemballa have this unique specialty to build exclusive sports cars based on the Porsche models. The very last exotic addition to their range is called Mirage GT Black Edition and it is based on the Porsche 980 Carrera GT.
Undoubtedly this model will conquer a lot of motor sport hearts, because it is extremely attractive thanks to its unique yellow exterior, its enhanced characteristics and a lot of carbon fiber included. The improvements on it mainly concern the aerodynamic components and the modifications done on the engine.
Thanks to these enhancements, the 980 Carrera can now produce 650 horsepower (478 kW) and 630 Nm (465 lb-ft) of torque. This means that on its way to the top speed of 335 km/h the sportscar accelerates from 0 to 100 km/h in only 3.7 seconds. The stock acceleration time was 3.9 seconds. And for the sprint from 0 to 200 km/h, the Porsche needs 9.7 seconds compared to the stock 9.9 seconds.
At last, the interior is very stylishly and it is full of contrast: in general the materials used are in black, but there are also powerful yellow elements and yellow stitching, which emphasize more prominently the sporty nature of the car. In addition, in the cabin from the floor to the roof lining one can easily see a lot of carbon fiber.
Source: Gemballa