Geneva Motor Show: 2014 Volkswagen Golf BlueMotion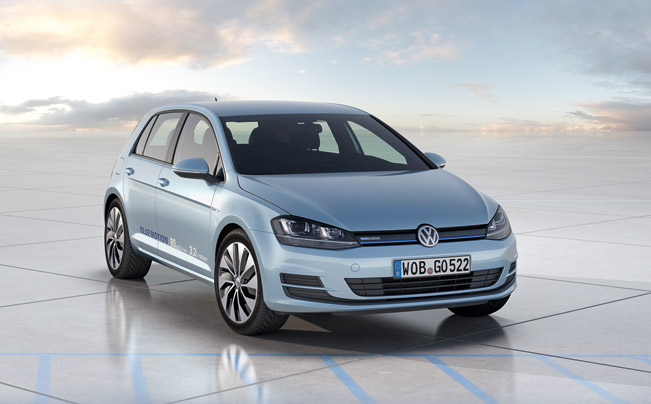 The new 2014 Volkswagen Golf BlueMotion is making a world premiere at this year Geneva Motor Show. This is one of the world's most fuel-efficient family cars: a genuine five-seater, with all the Golf's traditional attributes of comfort, safety and practicality, along with combined fuel consumption of 88.3 mpg on the combined cycle and CO2 emissions of just 85 g/km, makes it the perfect car.
The above mentioned numbers also signify that there is a 15 per cent improvement over the previous-generation Golf BlueMotion, which emitted 99 g/km. The new model is equipped with a 50-litre fuel tank and has 88.3 mpg fuel consumption. The theoretical range of this Volkswagen model is 970 miles.
The great fuel consumption figure is achieved through innovative lightweight design. This includes 26 kg less weight in the running gear and 37 kg less in the body, engine-related modifications and a collection of other measures such as super low rolling resistance tyres with higher air pressure, longer gear ratios - five-speed manual gearbox, the Stop/Start and battery regeneration systems that are standard in all new Golf's, plus specific aerodynamic modifications.
Furthermore, the frontal area of the new Golf has been reduced by 0.03 m2 and aerodynamic drag by nearly 10 per cent. In terms of aerodynamics, the BlueMotion has lowered ride height, a roof spoiler, lateral air guide elements on the rear window, a masked front grille, partially closed air inlet screens, enhanced cooling system airflow, special underfloor panels, optimised brake cooling channels and a C-pillar spoiler. The result is that the Golf BlueMotion is one of the most aerodynamic cars in its class.
More importantly, at the heart of the new Golf BlueMotion concept lies the 1.6-litre 110 PS TDI from the newly developed EA288 engine series. This unit develops 110 PS (80 kW) and has a maximum torque of 250 Nm (185 lb-ft) from just 1,500 rpm up to 2,750 rpm.
Pricing and exact specification of the 2014 Volkswagen Golf BlueMotion will be announced closer to launch.
Source: Volkswagen