GM Holden EcoLine Badge Highlights Alternative Range
GM Holden dealerships are now receiving their first deliveries of Holden EcoLine-badged vehicles. EcoLine is the GM Holden brand designed to highlight the company's broad range of vehicles that use an alternative fuel or fuel saving technology.
The Holden EcoLine range offers consumers affordable solutions to tackle fuel efficiency and highlights Holden's commitment to a range of energy diverse vehicles.
GM Holden Director of Energy and Environment, Richard Marshall, said the Holden EcoLine badge reflected GM Holden's strategy for the present and future.
"The energy challenges we face require many solutions. For Holden, the future of sustainable motoring is a clear strategy of fuel efficiency and energy diversity," Mr Marshall said.
"The Holden EcoLine badge reinforces this approach by highlighting vehicles that use alternative fuels or fuel saving technologies. EcoLine vehicles suit a range of driving conditions and budgets and provide benefit for customers' hip pockets.
"The Holden EcoLine badge is an easy way to communicate this 'Future Friendly' strategy to our customers. It highlights the ways we are making Holden a smarter choice for Australian motorists."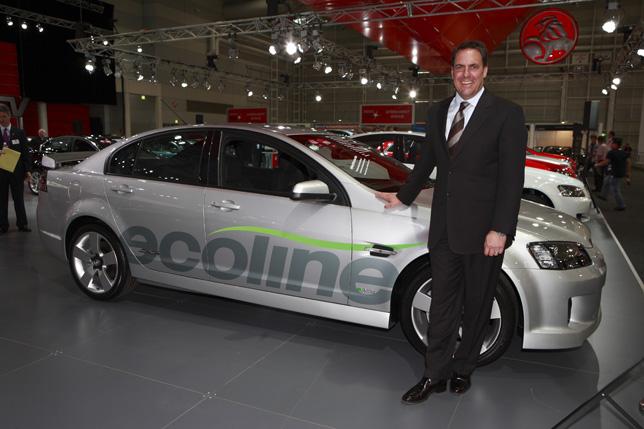 Launched at the Australian International Motor Show in Sydney, Holden EcoLine includes models from GM Holden's range of diesel, LPG and Active Fuel Management (AFM) enabled vehicles.
GM Holden offers an extensive range of diesel vehicles including the 2WD Captiva SUV manual which boasts segment leading fuel efficiency and the mid-size Epica.
LPG is available on selected Commodore and Ute models and when combined with the $2000 government rebate for eligible private buyers, the net cost of an LPG Ute is only $1400 more than its petrol equivalent and only $400 more for the LPG sedan.
The fuel saving technology AFM, which enables an eight cylinder vehicle to automatically operate on four cylinders in certain driving conditions, is part of the EcoLine range.
GM Holden has also announced the launch of an E85 capable vehicle in 2010 and the much-anticipated Volt extended range electric vehicle in 2012. These vehicles, as well as other fuel-saving technologies, will become part of the EcoLine range in the near future.