GM Holden To Build Small Carline Alongside Best-Selling Commodore
GM Holden will build an all-new small car in Australia alongside the country's best-selling Commodorerange. The second carline will start in the third quarter of 2010 with support from the Federal and South Australian Governments.
The vehicle will be based on General Motors' global Delta small car platform and feature new technologies to increase fuel efficiency and reduce greenhouse emissions. The new front-wheel-drive vehicle will be built as a sedan and hatch at GM Holden's Elizabeth manufacturing facility in South Australia. Design and engineering work will take place at the company's headquarters in Port Melbourne, Victoria. Start-stop hybrid technology and capacity to run on alternative fuels such as E85, diesel, LPG and Compressed Natural Gas (CNG) are all being considered for the vehicle's development. It will be GM Holden's first locally produced car beyond its current range of larger vehicles since the Asian economic crisis ended Vectra production in 1998. The program will require 500 to 600 existing employees at Elizabeth and is estimated to provide 500 to 600 local supplier positions.
GM Holden Chairman and Managing Director, Mark Reuss said the announcement provided opportunity to take a leading role in developing alternative fuel and fuel saving technologies in Australia for Australians. Mr Reuss said the program would be a major contributor to the economy, generating an estimated $70 million to $80 million in wages and $30 million in research and development. "Together with Government, we are extending the scope and consumer appeal of our local manufacturing efforts," Mr Reuss said. "We have been building Holden cars to suit the needs of Australian motorists for 60 years. These plans build on that tradition. "We recognise the needs and desires of motorists are evolving with growing concern around environmental factors and shifting consumer sentiment. "Such evolution calls for an innovative approach to complement our current offering. "Just as our leading Commodore range will continue to undergo technological development, this new vehicle will cater for growing demand for smaller cars focussed on economy. "We are planning for the future to produce a wider range of cars in Australia to cater for a variety of driving needs."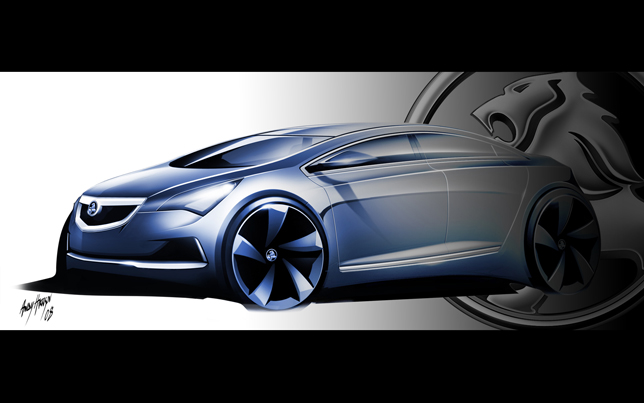 Flexible manufacturing infrastructure will be introduced to the Elizabeth plant to make it capable of producing a series of GM global vehicles in years to come. It also provides opportunity to develop an export program for the vehicle, particularly to other right hand drive markets around the world.
Mr Reuss paid tribute to the Federal and South Australian Governments for their ongoing commitment to the Australian automotive industry. "The Rudd Government's Green Car Innovation Fund has provided opportunity to turn our plans into reality," Mr Reuss said. "This announcement complements the vision we share with the Government of reducing Australia's dependence on foreign oil and making motoring better for the environment. "It demonstrates commitment to an Australian automotive industry which extends beyond manufacturing at GM Holden to thousands of suppliers and dealers across the country. "That demonstration was clearly seen by our parent company in its decision to support this program. "The support of the Federal and South Australian Governments in securing this program recognises the fundamental role which automotive manufacturing makes to national and state economies. "By working together, we have ensured GM Holden will continue to make a major contribution to the nation's economy for many years to come."
GM Group Vice President and Asia Pacific President, Nick Reilly, today added his support to the program as proof of GM's capacity to innovate across the region. "This announcement recognises the ability of GM, GM Holden and the Australian automotive industry to see the future and move in the right direction," Mr Reilly said. "This program simply would not have occurred without such partnerships. "Producing this vehicle will continue Australia's proud history of innovation as part of the GM group's broader commitment to energy diversity. "I thank the Australian Federal Government and Government of South Australia for their commitment to manufacturing in the Asia Pacific region."
About the vehicle
The new small, front-wheel-drive, four-cylinder vehicle to be built by GM Holden at Elizabeth will be based on General Motors' global Delta small car architecture. Other examples of the architecture will include the next generation Chevrolet Cruze and Opel, Vauxhall and Saturn Astra. The architecture was primarily developed by GM Europe in Russelsheim, Germany for GM markets around the world. Local design and engineering work on the Australian vehicle will take place at GM Holden's Port Melbourne headquarters in Victoria. Direct injected petrol and diesel variants of the vehicle will be produced with GM Holden considering a range of alternative fuel or fuel saving technologies including E85, LPG, CNG and start-stop hybrid capability. Further details about the vehicle including its nameplate, design specifications and pricing will be determined closer to the time of production. Given the competitiveness of the small car segment, key decisions will be made to ensure the first Australian-made small car choice for many years will be a compelling one. The vehicle will be built in the south bodyshop of the Elizabeth facility, which was previously used for the Vectra assembly in the late 1990s.