GM India Launches New Chevrolet Aveo U-VA
General Motors India today launched the new Chevrolet Aveo U-VA at a press conference attended by its brand ambassador and movie star Saif Ali Khan. Launched as part of General Motors' centenary year celebrations, the new Chevrolet U-VA is a testament of the company's continued commitment to sharing its joy with valued customers. The New U-VA comes with a number of additional interior and exterior features including:
* Driver airbag and ABS system for enhanced occupant safety
* Keyless entry with burglar alarm for improved vehicle security and ownership convenience
* A rear spoiler to add sportiness and youth to the external visual package
* Leather-wrapped steering wheel and gear knob to enhance driver appeal
* Split folding rear seats to ensure cabin payload flexibility
* Premium deco moulding on the instrument panel and door trims to provide luxury
Speaking on the occasion Mr. P. Balendran, Vice President said, "The new Chevrolet U-VA now brings superlative value and additional safety, security and luxury to our customers, which is in line with our commitment to provide best-in-class products and services. With our Talegaon plant going into production last month, GM is now in a position to strengthen the company's presence in the Indian market through the Chevrolet brand. We will now continue to roll out new products and also revitalize our existing line up to create new excitement in the market. We are confident that we will be able to capture a sizable portion of the domestic market by 2010, he added.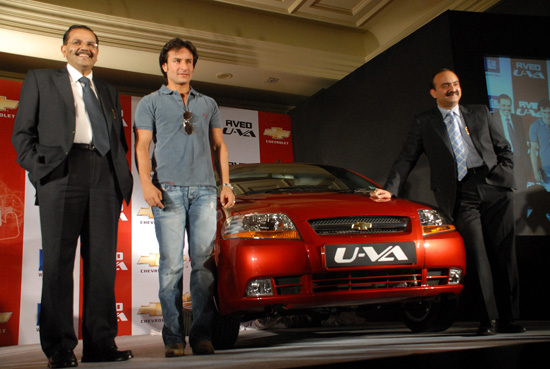 "The Chevrolet U-VA is a global product sold in Europe, North America and other parts of Asia Pacific," said Mr. Ankush Arora, Vice President (Marketing, Sales & After Sales). "Today, the new Chevrolet U-VA can also boast of truly class-leading and exciting features that put it a league above its competition", he added.
The new Chevrolet U-VA is backed by nationwide dealer and service networks, combined with reasonably priced maintenance, industry-first warranty schemes and low-cost spare parts, which add further lustre to the vehicle.
A high decibel advertisement campaign for the new Chevrolet Aveo U-VA
A refreshing television advertisement campaign for the new U-VA also went on air recently starring movie star and brand ambassador of Chevrolet, Saif Ali Khan. "The creative in this new commercial has taken the new U-VA's proposition to the next level - as the big car for the large heart, with its 'Bada Dil Badi Car' tag, "With Saif and a witty script, this ad has caught the attention and appreciation of audiences throughout the country. The high decibel campaign will be seen across channels with approximately 120 spots per day and over 200 spots on the weekends. The campaign is now running on all the prominent channels and has been inserted around popular entertainment programmes," said Ankush Arora.
The Chevrolet U-VA shares a common platform with the Chevrolet Aveo, and has received rave reviews from auto experts and has won many awards since its launch, including podium honours from leading industry watchdog, J D Power Asia Pacific in its recent India Initial Quality Survey and BS Motoring Car of the Year award in its year of launch.