Graf Weckerle Audi R8 - a sense of perfection
Graf Weckerle Audi R8 is an example how little details can make the car look even more astonishing than possibly imagined. The reason for this is that this Audi R8 has been equipped with Graf Weckerle's Collection Sport package.
The aim of the professionals from Graf Weckerle is to give an elegant and yet athletic improvement of the overall appearance of the Audi. First, what they have done is to include the one-of-a-kind lightweight multi-piece Graf Weckerle Collection Sport Forged Wheels. They have been designed especially for this car with the single aim to match its exterior.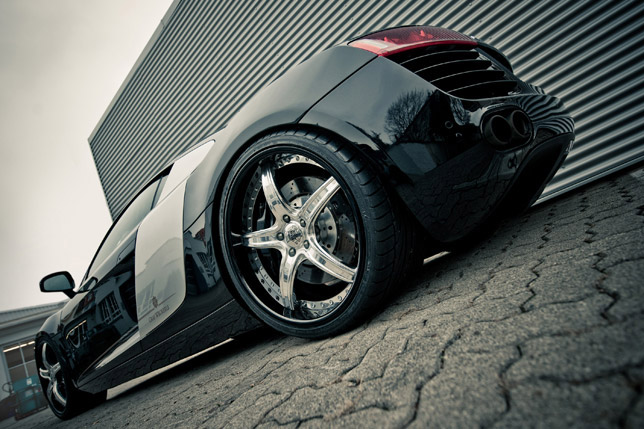 These ultra lightweight aluminum wheel rims received a special high-gloss black coating. At the same time the forged and machined wheel discs were polished to a brilliant finish. And as you can see the aluminum center emblem has also been polished and is now making a dramatic contrast to the engraved and hand-enameled Graf Weckerle logo.
The dimensions of the wheels on which this R8 runs are 9 x 20 with tires 245/30 R 20 at the front axle and 11 x 20 with tires 305/25 R 20 on the rear axle.
Another visual highlight here is that the car has been further refined thanks to the hand-painted Graf Weckerle Coachline. The Audi R8 is finished in two shades of anthracite and it is accented by the characteristic Graf Weckerle brand logo which is positioned on the Sideblade of the R8. And this definitely goes so harmonious with the custom wheel rims that one couldn't imagine more perfect combination.
To keep up with the dynamic wheels, the Graf Weckerle engineers and designers have installed a fully adjustable aluminum coilover suspension. The purpose of this type of suspension is to enhance both handling and looks.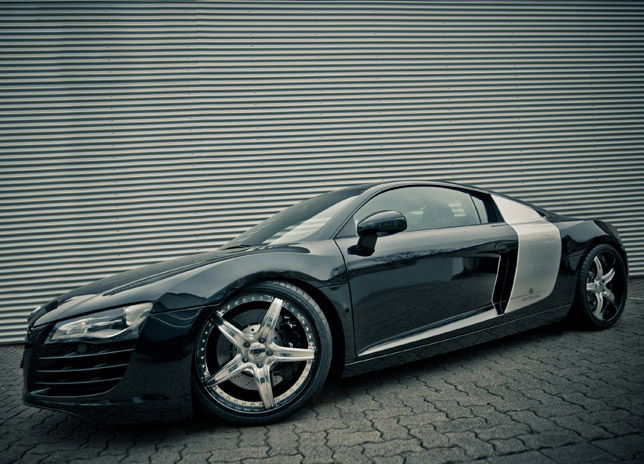 At last, the performance of the R8 has also been significantly improved. The 4.2 FSI engine of the Audi received a remapped ECU and was joined by a handmade stainless steel exhaust system with exhaust flaps which can be regulated by a remote control. The result is almost unbelievable: now the Audi generates up to 455 horsepower (355 kW).
At last, to make everything perfect, Graf Weckerle took care even for the last detail: the exhaust tips have been covered with a matte black ceramic coating.
Source: Graf Weckerle