Hamann BMW 3er Series Cabrio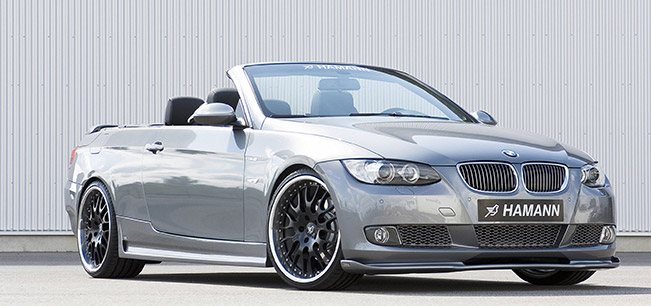 HAMANN from Laupheim, Germany, has already begun with modifications for the youngest 3-Series Convertible. An aerodynamic kit, power boost, new wheels, suspension components, as well stylish interior enhances the sporty elegant features and improves driving performance of this bavarian beauty
Power boost for gas engines and diesels
HAMANN boosts the power in this Convertible by means of optized curved maps. Meaning, the electronic power boost is achieved by recalibrating the standard ECU. The four-cylinder model 320i receives HAMANN´s boost of 10 HP / 7 kW and 10 Nm torque. Enough to speed up the 320i to 233 km/h (standard: 228). The six-cylinder gas engines 325i and 330i experience a plus of 13 HP / 10 kW and 17 HP/ 12 kW and both about 25 Nm torque as well. Top speed climbs to 250, respektively 265 km/h (standard: 325i 245 km/h, 330i 250 km/h). Included in price for the 330i is deactivation of 250 km/h speed restriction.
Likewise the 335i receives a power boost from 37 HP / 27 kW and an impressive 279 km/h top speed. For easier "breathing" capabilities of the 6-cylinder model HAMANN offers a sport air filter. For the current diesel model 330d customers can expect a significant power boost of 272 HP/ 200 kW making possible a top speed of 256 km/h (standard: 245) and 600 Nm at 2000 rpm/min.
By fitting a HAMANN 4-pipe sports rear muffler with four round tailpipes, the 335i publicizes it's power. The four stainless steel tailpipes, each 76mm in diameter, make the rear end of this Convertible even more attractive.
Powerful sport aerodynamics
BMW tailored beautiful body-work for the 3-series Convertible. HAMANN provides customers a even more individual look with specially powerful enhancement. Fitted to the standard bumper is a new, distinctive sportier looking HAMANN designed front spoiler. The visual lowering effect created by the new side sills, lend the side view more character. The buoyancy reducing rear spoiler in combination with the new HAMANN rear center molding designed for conjunction with the HAMANN 4-pipe sport muffler, incorporates matching cutouts for the tailpipes and is a real eye-catcher. Fitted black Carbon-Kevlar mirror caps lends the HAMANN 3-Series Convertible that final polished look.
Wheels from 18 to 20-inches
HAMANN really goes to town when it comes to wheels. Three unique individual designs and three sizes from 18 to 20 inch make selection difficult. A multispoke design is featured in the single-piece rim "Anniversary I" is available in 'silver' finish and features an outer rim with an INOX steel lip. HAMANN offers it in 18, 19 and 20 inch versions. The wheel PG3 is a multiple five-spoke composite wheel in silver with a high-gloss polished rim flange. Here customers can choose between sizes 19 and 20 inches.
Unquestionably, 20 inch wheels suit the customized 3-Series Convertible best. HAMANN offers this size as top model design "Edition Race". The appearance of this three piece, ultra-lightweight, forged rim is a cross-spoke design with a black spider characterized by the 9 main spokes, each of which branches outwards into 2 further spokes. Following this exciting design, the titanium bolts are a particularly attention-getting design. The high-gloss rim flange adds the finishing touch to this stylish look.
Choice of combination with wider rear axle tires is possible for all 19 and 20 inch versions from Anniversary I and PG3 as in the case of Edition Race wheels as well. HAMANN provides advice as requested regarding all possible combinations.
Better handling and powerful gripping brakes
By fitting a suspension lowering kit comprising of four progressive suspension struts, HAMANN succeeds in lowering the vehicle's center of gravity by 35 mm front and by 20 mm rear. For vehicles with sport suspension tuning systems from stock, that's still around 15 mm. In both cases, a clearly better handling results. Among race drives it is said "races are won on the brakes". For those who prefer to use somewhat more rapid acceleration, HAMANN program suggests powerful gripping brakes for security purposes!
Interior designed with numerable accessories creates an even more pleasurable stay in HAMANN´s 3-Series Cabrio. Thanks to the three-spoke HAMANN airbag sports steering wheel, the driver's hands always hold the reins securely. A sporty flair is added by the decorative carbon-fiber components, which HAMANN fits to the dashboard, center console, ashtray trim, doors, steering wheel, gearshift knob, handbrake lever and the I-Drive-Controller. HAMANN adds further sporty nuances in the form of sport gearshift knobs (in aluminum or leather/aluminum), aluminum pedals, an aluminum handbrake lever and an aluminum footrest. An exclusive set of floor mats sporting the HAMANN logo in silver rounds off the interior offerings.
Of course, HAMANN customizes every 3-Series to individual customer requests. For example, luxurious leather upholsteries in a variety of colors are possible, as are extensive multimedia conversions featuring DVD player, TV or Playstation.