2012 Hartmann Mercedes-Benz Sprinter SP5 Conference
The new tuning made by Hartmann is based on a Mercedes-Benz Sprinter model.  The interior of the vehicle is absolutely spectacular and combines luxury and refinement in every possible level. At its core the vehicle is a salon with two single seats and two swivel chairs. In addition, they are also covered with the best genuine Mercedes-Benz nappa leather in "Sunset red" colour or fine Alcantara in "Java" colour.
Furthermore, they are heated as well. In the centre of this Sprinter is a seat and table rail system, which were created in colaboration with TÜV Nord. The side panels and the canopy were also covered in the high-quality leather.
In the rear part of the interior, Hartmann tuners installed different furnishings made of non-distorting boat plywood, which was additionally covered with makassar veneer on both sides, a 6-fold coat of paint and polished. Moreover, there are two highly luxurious roller front cupboards suitable for wardrobe and files, including two 12-Volt connections and an external 220-Volt connection for an additional power supply.
Adding to the spectacular interior there were also installed a catering cabinet for some dishes, a cabinet with an integrated compressor cooling box and a Nespresso coffee bar. The entire setup is lit by ambience lighting with warm-light LED lamps in the canopy and lighting under the rear worktables. Of course, the Sprinter was fully insulated to enhance even further the privacy.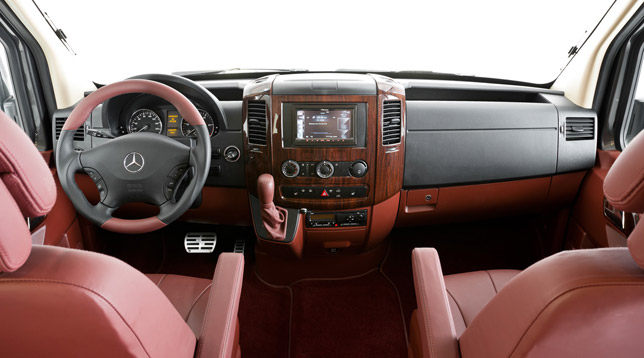 Another refinement with leather and alcantara was made on the drivers and passengers area. In addition, the technicians installed a Pioneer head unit with route planner, Bluetooth phone, DVD-/CD-changer and Ampire low-range bass, as well as a sophisticated speaker system. The tuners didin't miss the steering wheel: it was covered in special leather in black and sunset red.
There were also included individual carpets in dark red wool velour. In addition to all this, 2012 Hartmann Mercedes-Benz Sprinter SP5 Conference comes with aluminium wheel set, equipped with 265/40R20 tyres; aerodynamics construction set, including front spoiler skirt, a side sill set and tail skirt create a skilfully sportive appearance.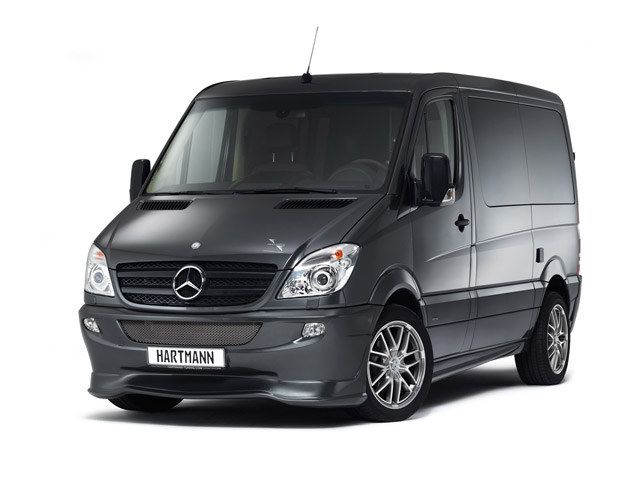 Source: Hartmann Tuning