Hartmann Tuning Work on Mercedes-Benz Sprinter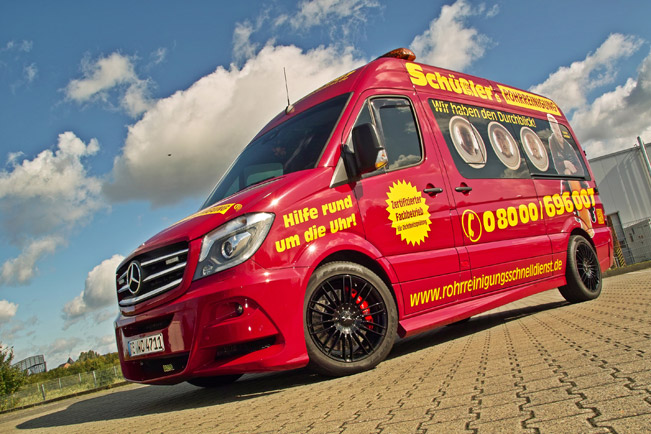 Hartmann Tuning Mercedes-Benz Sprinter 319 CDI has been enhanced with tuner's VANSPORTS styling-programm. The result is that the customization specialists have turned it into unique service vehicle. This red and racey looking Mercedes-Benz Sprinter has received new spoilers at the front and the rear, sideskirts and lowering springs. There are also painted mirror caps and tinted tail lights which contribute even more to this van's outstanding appearance.
Being a fast service vehicle, the tuners decided to equip it with right sport wheels. As a consequence, the Sprinter received black glossy finished VEST-3-rims in the size of 9 x 20 inches. The wheels are part of the large VANSPORTS wheel-program and are coupled with Pirelli P-Zeo Nero tyres in the dimensions of 265/45 R20).
The optimal deceleration of the Mercedes vehicle is ensured by the high performance braking system with its six-pistons brake calipers and perforated discs. After the work on the exterior, the specialists at Hartmann Tuning continued with the modifications throughout the interior.
They added some attractive VANSPORTS accessories such as leather steering wheel, leather shift levers, pedal covers, genuine carbon decoration and chrome door sill plates. There were also included Singler leather seats in both first and second row. The special rail system on the soil guarantees variable seating arrangements. At last to be mentioned are the folding table and the installed Sortimo van racking system.
Source: Hartmann Tuning