Hennessey Chevrolet Corvette Z06 HPE800 Under Chassis Dyno Tests [VIDEO]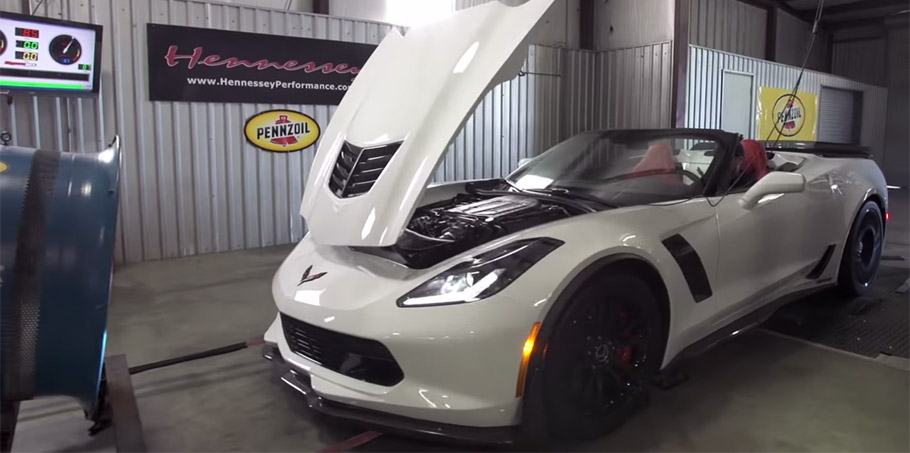 Hennessey Chevrolet Corvette Z06 HPE800 offers nothing less but power and exceptional driving experience. And we don't have to even convince you of that since it is a well known fact that the tuning company shows outstanding expertise in output uprating. What we have here is the 2015 Chevrolet Corvette C7 Z06 which has been fitted with HPE800 upgrade and has been tested to the limits. And there is a video below to make things even more graphic.
The production version of the Chevy is powered by the LT4 supercharged 6.2L V-8 engine. It produces more than 650 horsepower (485 kW) at 6,400 rpm and 650 lb-ft of torque (881 Nm) at 3,600 rpm. These numbers make the car the most powerful production GM vehicle.
HPE800 Upgrade
After the HPE800 upgrade was added Corvette C7 Z06 is now capable of furious 800 hp (588 kW) at 6,500 rpm! Just check out the video and you can hear and see everything. But how the specialists have achieved this mind-blowing performance uprating?
SEE ALSO: Hennessey Performance 774HP Mustang GT Runs to 207.9 mph [VIDEO]
In other words, what does the HPE800 upgrade include? There are a lot of factors contributing for the power boost. Starting with the lower pulley upgrade, the high flow cylinder heads, upgraded valve springs and lifters are just some to mention.
What is more, there is also new cold air induction system added as well as custom HPE camshaft. In addition, Henessey Performance added all necessary gaskets and fluids to make everything work smoothly.
Serial-numbered dash and engine plaques as well as the Hennessey exterior badging will make sure that the car stays recognized. At last, there are also in-house made premium floormats which will adorn the interior.
Optional Upgrades
If the styling features are not enough for the powered-up Corvette, then the owner can opt for some optional goodies. Examples are the Hennessey Performance carbon fiber door sill plates and the H10 monoblock wheels coming in different sizes.
At last, we urge you to view this great video. There's a lot to see and you won't believe your eyes!
Video Source: YouTube
Source: Hennessey