Hennessey HPE500 Supercharged Dodge Ram
Hennessey performance has announced a new performance package for the big four-door Dodge Ram 1500. The pick-up has been equipped with a supercharger, which boosts the engine to the whopping 505HP, so you will be able to carry all your instruments incredibly fast. Really useful!
Hennessey HPE 500 performance package includes a big TVS2300 supercharger, a revised intake, new larger fuel injectors, a cat-back sport exhaust system and of course an ECU re-map to make sure that all parts work perfectly together. The result is 505HP from the 5.7 liter HEMI V8.
There are also optional upgrades like a full long-tube header exhaust, high-flow cats, a premium wheel and tire package, and your choice of a lowered or raised suspension.
The tuning company didn't release any price lists.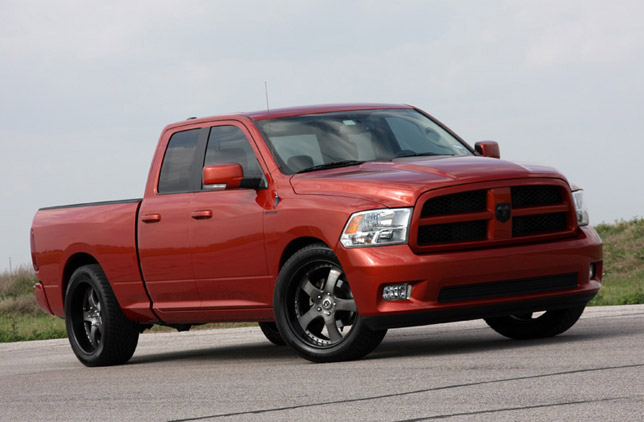 Hennessey HPE500 Supercharged Dodge Ram:
• 505 bhp @ 5,400 rpm
The HPE500 Upgrade Includes: • TVS2300 Supercharger System • HPE Air Induction System • Fuel Injector Upgrade • Stainless Steel Cat-Back Exhaust • Professional Installation • HPE Engine Management Calibration • Chassis Dyno & Road Testing • Hennessey Exterior Badging • Hennessey Premium Floormats • Hennessey Enbroidered Headrests • Serial-Numbered Dash & Engine Plaques • 3 Year / 36,000 Mile Limited Warranty
HPE500 Optional Upgrades: • Stainless Steel Long Tube Headers • High Flow Catalytic Converters • Premium Wheel & Tire Packages • Lowered or Raised Suspension Systems • Bumpers, Guards & Exterior Lighting • And More
Source: Hennessey