Hennessey VelociRaptor 600 Supercharged is Dyno Tested [VIDEO]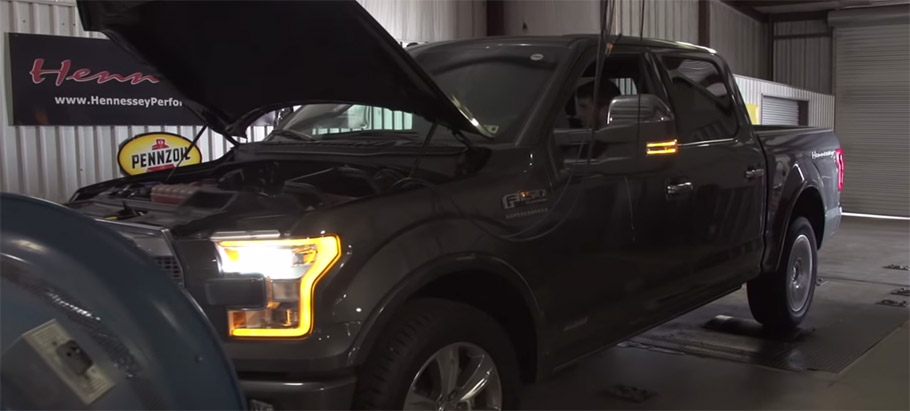 Hennessey VelociRaptor 600, the exquisite supercharged vehicle based on the Ford F-150 Truck, has just undergone dyno tests and its performance is spectacular. Everything was captured on video, which you can view below. The guys at Hennessey Performance have just published this footage on their official YouTube channel, showing the extreme performance of the supercharged 5.0L V8 engine of the VelociRaptor. And this is how they have proven that their machine is capable of the staggering 600 horsepower!
VelociRaptor 600 Supercharged Upgrade
This amount of power is achieved at 6,600 rpm and contributing for this are significant changes under the hood. Basically, the upgrade responsible for the 600hp includes 2.9 Liter Supercharger System. It is aided by a Roots-type supercharger that packs 8 psi of boost.
Furthermore, the 5.0L V8 breathes more deeply thanks to the high-flow air induction system and stainless-steel exhaust system.
SEE ALSO: See How Hennessey VelociRaptor Survives TopGear Test [VIDEOS]
If these numbers and the featured video are enough for you, then there is the good news that Hennessey VelociRaptor 600 can be ordered since May. Hennessey is planning of making it extremely exclusive, because the production would not surpass 500 units. Each truck will be priced at $73,500 USD.
Powerful Exterior

But if you are more keen on the external side of cars, then you probably won't be interested in the VelociRaptor, because it is all about performance. Still, the truck looks fantastic due to some extra features. For instance, HPE experts added 17-inch wheels mated with 33 inch BFGoodrich tires and complemented by Brembo brakes and off-road coilover suspension.
In addition, the front and rear bumpers were also substituted with new ones, contributing for the new appearance of the truck next to the black fender flares and LED light bars.  Of course, VelociRaptor 600 exterior badging is necessity since each model will be one of 500 only. Optional upgrades like stainless steel cat-back exhaust system and yellow wrap exterior paint finish are also present in the list of features.
Want to know what has happened with the dyno testing? Then you should definitely watch the video below:
Video Source: YouTube 
Source: Hennessey