High Gear SEMA Ford Mustang Concept to be build by women
High Gear SEMA Ford Mustang Concept is a product of the work of collaboration between Ford Motor Company and Specialty Equipment Market Association (SEMA). More importantly, standing under the name of "High Gear", the car is the first ever SEMA Mustang which is going to be powered by women.
What does that mean? Basically, this satin-black luxury Ford Mustang concept is going to be build by group of women volunteers. In fact, in the design phase of the project were created three cars, among which the presented one stood out and was more appealing to the fans of the company.
"High Gear" is a design by Jennifer Seely of Ford, who was inspired by international products in categories such as jewelry, couture clothing and architecture. She developed the idea of the concept around the goal to stimulate the senses by fusing luxury and power.
Hence, some of the special features in this Mustang include rose-gold chrome accents throughout the exterior and interior; satin-black body; plush, quilted suede seats and a leather-wrapped interior. Further modifications will also be made to the engine, undercarriage, drivetrain and sound system.
The selected concept is now going to be built in eight weeks and this is going to be done entirely by group of women. This means that the actual work on the project is expected to be done from July to August this year. In the end, when the vehicle is ready it will make its debut at the 2012 SEMA show in Las Vegas.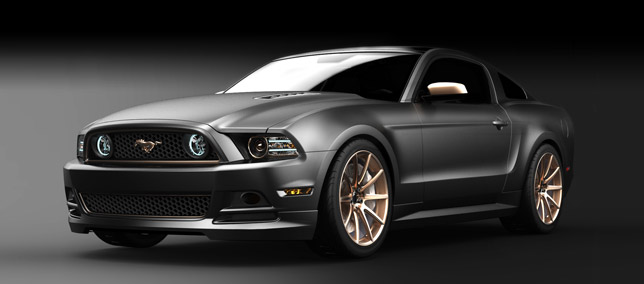 Source: Ford