Holden SV GTS 25th Anniversary Limited Edition Released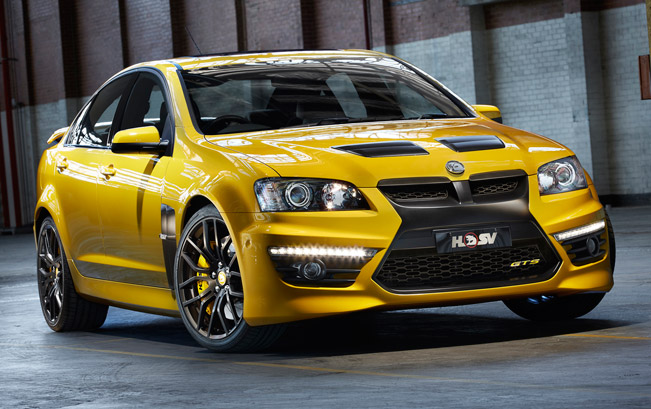 Holden SV GTS 25th Anniversary Limited Edition delivers outstanding performance thanks to its 325 kW (442 hp) 6.2 litre, LS3, generation 4 alloy V8 engine. The car is already known elsewhere as known elsewhere as the Vauxhall VXR8 and is based on the Holden Commodore.
To this special edition model have been added new light-weight 20 inch forged alloy wheel in Satin Graphite. They not only contribute to the great outer look of the Holden, but also to better aerodynamics.
Furthermore, the wheels are complemented by distinctive Vector hood scoops and side vents, while technology is further improved with the fitment of Side Blind Zone Alert. The latter helps detect and alert the driver to objects adjacent to the vehicle in the traditional "blind spot" zones.
Unfortunately, we will be able to see only 140 examples of this limited edition, which will be individually numbered to ensure exclusivity.
Let's go deeper and see what has been included in the interior. The HSV Interior range has been designed around total driver ergonomics, which put them instinctively in control. Some of the features here are: Satellite Navigation, Tyre Pressure Monitors, USB Input and MP3 Hard Drive, unique 25th Anniversary treatment, HSV Oracle Instrument Cluster, Dual Zone Climate Control, Rear Park Assist, Touch Screen Audio, Enhanced Bluetooth.
More details about the exterior here which makes this 25th anniversary edition unique, besides the great alloy wheels and the vector hood scoops and side vents, are the Magnetic Ride Control with Performance/Track Modes, Daytime Running Lamps, 6 Piston Brake Package, Hi-flow intermediate with Bi-Modal exhaust, Superflow Rear Spoiler, Rear Park Assist with Reverse camera, LED Tail Lights.
More importantly a great deal of technology was also included here. Enhanced Driver Interface (EDI) is one of the major highlight here. It connects with the on-board computer to constantly stream real-time vehicle dynamics and performance data to the touch screen display.
Next to be mentioned is the Competition Mode ESC, which is specifically created to give the driver more freedom under 'spirited' driving conditions. Launch Control on the other hand provides the vehicle with the ability to accelerate from standstill at its maximum potential.
MRC or Magnetic Ride Control allows ride stiffness to be adjusted through electric currents, while the 6 Piston Brakes, colored in unique yellow with wheel accenting, provide a 50% increase in pad area as well as revised ABS, TCS and ESC calibrations.
The Side Blind Zone Alert system extends driver vision, utilizing ultrasonic waves to detect objects in adjacent lanes. Next, the Bi-Modal Exhaust keeps the noise low when the driver is cruising. At last, the feature of Extended Cruise is automatically turned on when the cruise has been activated, and it maintains the set speed even when driving on a decline.
Source: Holden Special Vehicles