Hyundai To Reveal Suv Concept At Geneva Motor Show
Hyundai is to unveil an all-new concept car at this year's Salon International de L'Automobile in Geneva on March 3rd. This innovative concept portrays a dramatic new look for compact SUVs and was styled at the company's European Design headquarters in Rüsselsheim, Germany.
The world première of this new concept – codenamed HED-6 – will take centre stage on the Hyundai stand, with two other vehicles completing a hat-trick of debuts for the company.
The three-door version of the new i20 will also be shown for the first time, while the i30 blue will showcase the first application of stop-start technology on a Hyundai production car. This technology will contribute to a significant cut in both fuel consumption and CO2 emissions.
HED-6 concept car Hyundai's European design team has combined muscular design with everyday utility to create a car which will fit comfortably in an urban or out-of-town environment.  The dramatic exterior look is enhanced by the hexagonal grille, angular style lines and piercing back-swept front headlamps, with the bold look completed by 21-inch, mirror-polished alloy wheels.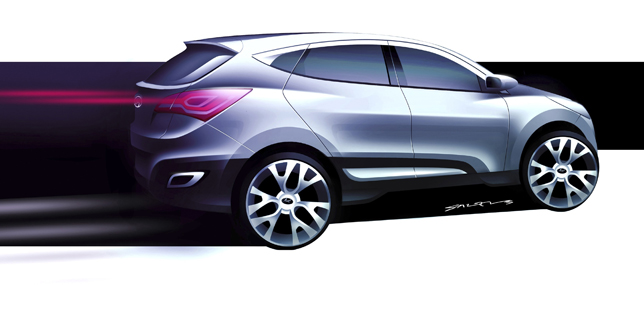 The three-dimensional, sculpted shape of the rear window is achieved using "Lexan" high-performance plastics instead of regular glass.  To emphasise the dynamic flowing lines, the designers have developed a special 'Ice Blue' exterior paint, with an advanced pigment effect for a brilliant shine.
Equipped with LED daytime running lights and powered by a 175hp, 1.6-litre GDi turbocharged engine, HED-6 gives a clear indication of the direction Hyundai will take with its next generation of Hyundai SUVs.
Allan Rushforth, Vice President at Hyundai Motor Europe said, "The HED-6 brings an entirely new look to Hyundai's SUV line-up.  It fuses a robust exterior with a fresh and elegant interior, making for an eye-catching package, while its latest-generation power train highlights Hyundai's clean-technology expertise."
i30 blue Hyundai decided on a global basis to label all low emission vehicles to be launched, starting with i30, under the sub-brand "blue". The i30 produced in Nosovice, Czech Republic, will be the first mass production vehicle to wear the blue label as i30 blue.
Demonstrating the company's commitment to lowering vehicle CO2 emissions and reducing costs for consumers, Hyundai is bringing ISG (Idle Stop and Go) technology to one of its production cars for the first time.
Ideal for city driving, the i30 blue will automatically switch the car's engine off when stationary.
The ISG system uses an advanced starter motor connected to the ECU, which monitors the car's status at all times.  Remarkably, this technology applied to Hyundai's 1.6-litre petrol engine reduces fuel consumption by 7% on the official combined cycle, while achieving a lower CO2 rating of 142g/km, compared to 152g/km on the regular i30 1.6.
Available in UK showrooms by the autumn, the i30 blue will come in both five-door hatchback and estate body styles and with a choice of 1.4-litre and 1.6-litre petrol engines. Other i30 engine derivatives will progressively be offered with ISG technology, followed by more models in the Hyundai range.
i20 three-door Set to play an important role in developing Hyundai's brand and sales success in Europe, the chic and versatile i20 three-door will go on sale in the second quarter of 2009.  Adding a lower entry-level price to the i20 line-up, the youthful and sporty three-door variant will boost Hyundai's offering in the largest growing segment in Europe.