2013 INFINITI JX LUXURY CROSSOVER
The luxury crossover 2013 Infiniti JX has just rolled off the production line during a special ceremony today at Nissan's Smyrna Vehicle Assembly Plant nearby Decherd, Tennessee. The vehicle has is 7-passenger one and it is the latest addition to the Infiniti Inspired Performance lineup. For those interested, it will go on sale at Infiniti dealerships in the U.S. in March.
This world-class vehicle was built in Middle Tennessee with the expect quality craftsmanship of this inspirational design. Along with the assembly of the new Infiniti JX, the 265-horspower (195 kW) 3.5-liter DOHC V6 engines are also assembled in the vicinity. More importantly however, is that the all-new 2013 JX delivers best-in-class fuel economy and has ratings of 21 mpg and 20 mpg combined for the front-wheel drive and intuitive all-wheel drive models respectively. What is more here is that the luxury crossover market is the fastest growing luxury segment in America; and this is where the brand Infinity steps in and takes part in this wonderful opportunity. In addition, the new 2013 Infinity JX Luxury Crossover features the world's first Backup Collision Intervention system. This is a first-to-market technology which was brought up by Infiniti. In details it sensors in the rear of the JX to detect potential obstacles when backing out of a parking space. The system gives visual and audible warnings if there is any kind of hindrance. Moreover, if the driver doesn't respond in time, the BCI steps in and automatically applies the brakes thus avoiding a potential impact. Furthermore, the new JX is more appealing than ever. It stands out with styling and craftsmanship. The interior is wider and offers huge legroom in all three rows and ample cargo room behind the third row. Additionally, there is also featured an innovative multi-mode middle seat design, which provides entry to the third row without removing a second row child seat. There are also a lot on innovative technologies featured in the vehicle. For instance, such one is the Infiniti Connection™. This new advanced system automatically synchronizes the owner's schedule through Google Calendar™ and then provides navigation and guidance to the appointments. The Manufacturer's Suggested Retail Price (MSRP) has been also revealed – it is exactly $40 450 for the JX35 FWD and $41 550 for the JX35 AWD model.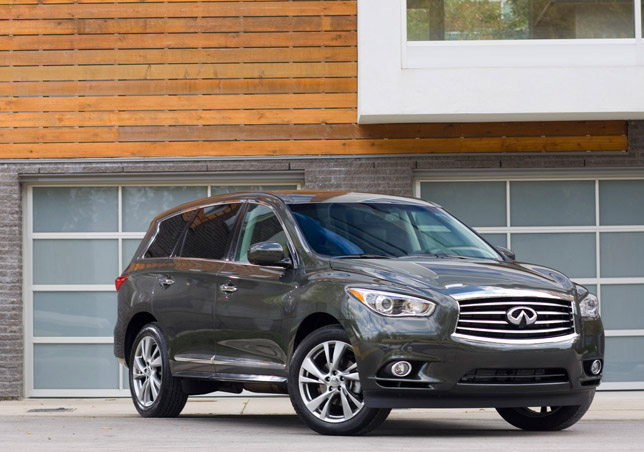 Source: Infiniti