Ingo Noak Tuning Porsche 911 997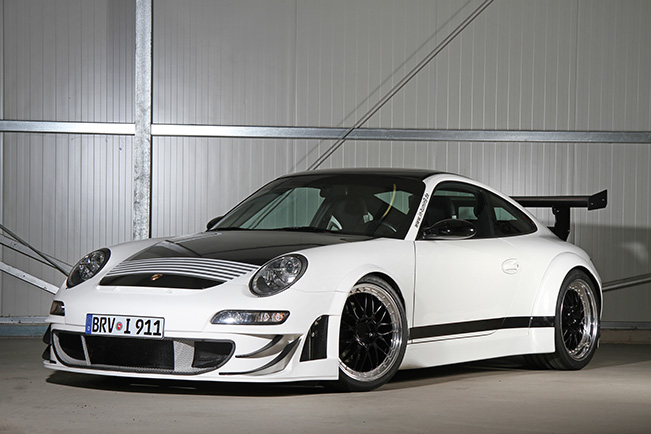 Ingo Noak Tuning has presented their latest project based on Porsche 911 997. The sports car has received a complete aerodynamics package as well as new wheels and suspension.
The exterior boasts a wide body kit including a completely new front bumper with massive ventilation shafts and side cup-wings made of carbon fiber. They are also fender extensions (front and rear) as well as modified rear bumper and a pair of wide side skirts. There is also a  big rear wing including air-ram engine cover. The highlight on the rear is surely the centrally positioned sports exhaust system made of stainless steel with its two 90 mm end-pipes. They were positioned to look like a diagonally-laid muffler has been installed.
The tuned 911 also comes with a set of classical racing sports rims – 8.5J x 19" at the front with 235/35 R19 tires and 11J x 19" at the rear fitted with 305/30 R19. To create a perfect blend of the rims with the edges of the fender, there were also even more significant toe enlargements with a width of 60 in front and in the rear, even 120 millimeters per axle.
To be sure that the wide-body does not only look sporty but can also be moved in a dynamic manner, the specialists from far up northern Germany relied on the racing sports competence of KW. The KW coil-over kit of variation 3 thus offers hundreds of compression and rebound adjustment options and also has special compensation tanks on the spring strut. The driving behavior can be individually adapted at all times, to the needs of the driver and the terrain.
The interior boasts minor upgrades including a painted center console and specially converted sports seats in leather and carbon combination including back rest made of carbon.
Source: Noak Tuning