Jaguar Shows F-PACE SVR Before Official Release. What Should We Expect At Geneva Show?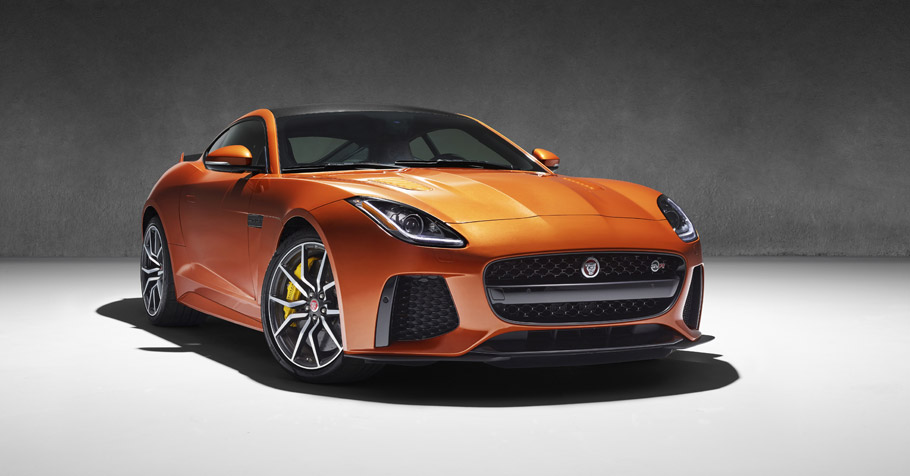 Jaguar digitally showcased the F-TYPE SVR, the extreme version of the well-known sporty car ahead of its official debut in Geneva on March  1. Especially created to exploit the lightweight materials, enhanced tractability and day-to-day usability, the F-TYPE SVR can finish the 0 to 100km/h (62mph) sprint in only 3,5 seconds and has a top speed of 360km/h (200mph).
Furthermore, by boosting and improving all of the most important  systems if the vehicle, Jaguar team managed to deliver the lightest, quickest and most powerful F-TYPE production series car. So, let's check out what makes this vehicle so interesting.
Drivetrain system
F-TYPE SVR is geared with the latest and greatest Jaguar Land Rover 5.0-liter supercharged V8 power unit that delivers not only titanic power, but also contributes to smooth and pleasurable ride. IT offers a total of 575hp (422kW)  and  516lb-ft of torque.
But the monstrous engine is not the only component that gives this vehicle its incredible performance capabilities. The enlarged air intakers in the front bumper, along with the restyled charge air coolers and hood vents further improve the cooling system and contribute to performance and engine efficiency.
Also important for the incredible performance is the lightweight exhaust system.  It is so well designed that reduces the backpressure and eliminates about 16kg of mass from the vehicle. Also, it features and special split muffler design that further reduces weight and improves the overall handling of the vehicle. Cool, right?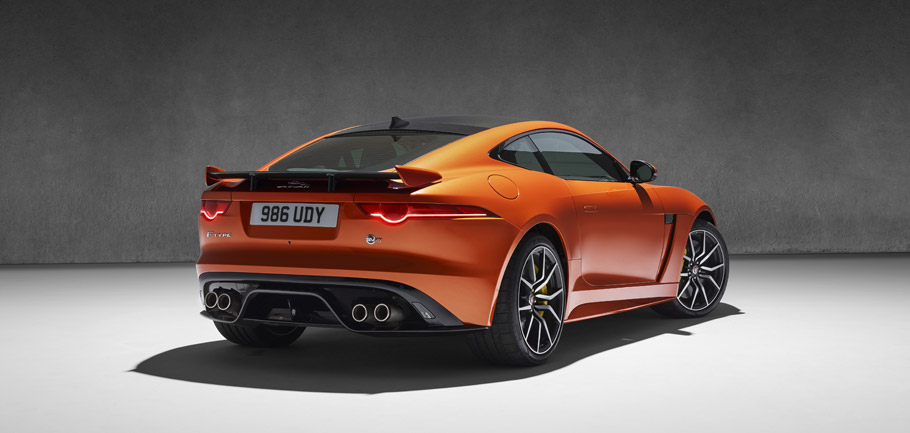 F-TYPE SVR also benefits from massive weight reduction improvements. Without the optional equipments, the vehicle weights with a total of 25kg less than the AWD F-TYPE R and with about 50kg lighter, if equipped with the optional Carbon Ceramic Matrix brake system and carbon-fiber roof.
And there are wider and exclusively-made Pirelli P Zero 265/35/ZR20 and 305/30/ZR20 tires that provide impeccable grip capabilities and handling improvements. Also, the new 20x9J and 20x11J forged aluminum wheels safe about 13kg of overall weight and also look stunningly good.
Of course, this massive power and enhanced performance needs some control. And as always Jaguar team made its best to provide it. The F-TYPE SVR comes with Super Performance brake system with large 380mm and 376mm front and rear brake discs. But the good people of Jaguar also know that there could be some buyers who are still unsatisfied and because of that they offer optional Jaguar Carbon Ceramic Matrix (CCM) braking system. It grants users with even larger 398mm and 380mm discs and six- and four-piston monoblock calipers. Sweet, right?
Aerodynamic features
In order to cut drag, the front bumper is slightly extended outwards. This helps to mask the vehicle as much of the wheels as possible and to improve the airflow. Also, the front valance and front underway further contribute to drag reduction and do improve the engine cooling.
SEE ALSO: Jaguar F-TYPE British Design Edition Reminds Why Jaguar Keeps Its Strong Positions
There is also one device that is probably one of the most useful in the whole drivetrain system of the F-TYPE SVR. This is indeed the deployable rear spoiler. Its highly optimized design is effective and aerodynamically-efficient in every position. Let us tell you what that means.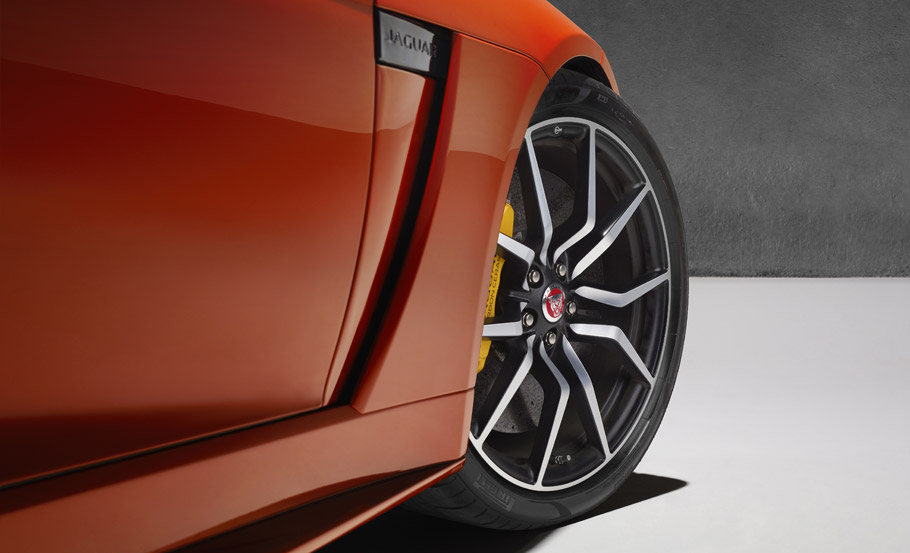 When the vehicle is in normal mode, the spoiler deploys once the speed reaches 60mph and 70mph for Convertible and Coupe. The spoiler also deploys automatically when the driver selects the Dynamic mode. In its raised position, the spoiler, along with the other aerodynamic-boosting features further reduce drag and lift coefficients by a total of 2.5% and overall of 15% when compared to the predecessor models. And when the spoiler is in its lower position, the improvements are with a total of 7.5% and 45% respectively. Impressive, right?
Interior styling
The cabin offers exclusive materials and fabrics, along with latest hi-tech gadgets.
Driver and passengers will be delighted to sit on the cosseting 14-way SVR performance seats, finished in Jet leather with distinctive Lozange Quilt pattern, contrast stitching and micro-piping and headrest, proudly showing the SVR logo. There is also an optional Siena Tan or Red leather upholstery.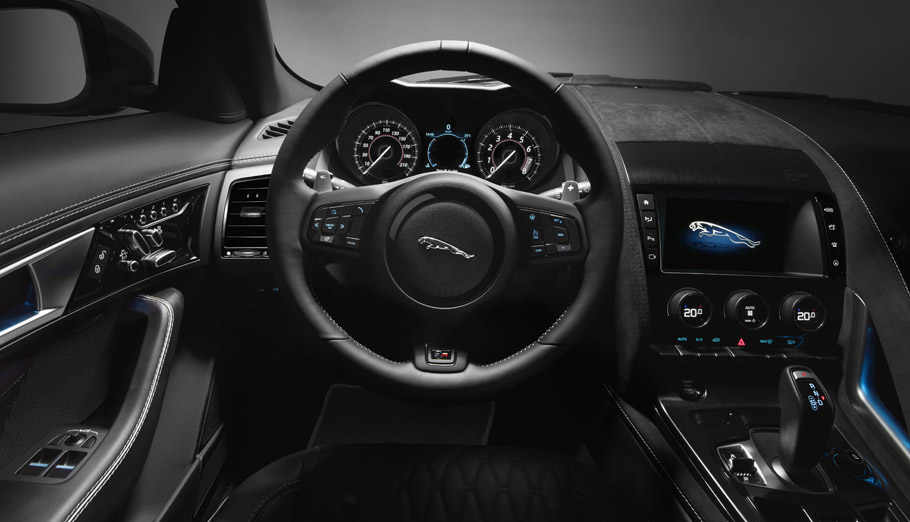 Furthermore, the 770W Meridian surround audio system, along with the touch-screen navigation and infotainment system remain standard features, along with the Jaguar InControl Protect, Jaguar InControl Remote functionality.
So, what do you think about the latest Jaguar creation? We do believe that there is still much to be shown at the Geneva Motor Show. Stay with us for further information!
Source: Jaguar