Jaguar Reveals C-X17 Sports Crossover Concept [VIDEO]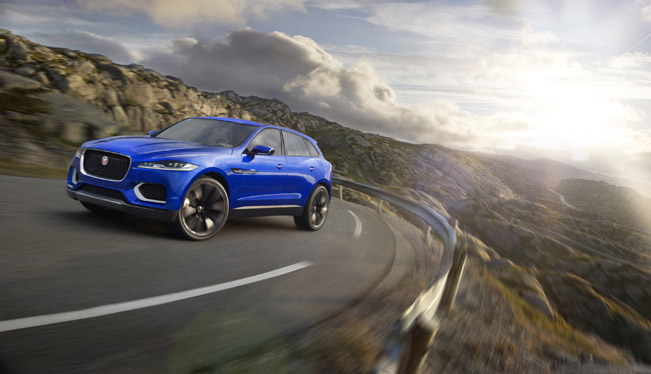 Jaguar C-X17 Sports Crossover Concept is making an official debut at 2013 Frankfurt Motor Show. The vehicle has been created as a design study and introduces Jaguar's aluminum unibody architecture. On the latter many other new vehicles will be built.
In fact, the architecture is high-strength, lightweight, extremely stiff and embodies innovative efficiency technologies. It is one of the main reasons for the unique character, dynamics, performance and luxury of the car.
This is the first sports crossover of the brand with which it aims to appeal to the wider global audience. The first product from the new architecture will be a new premium C/D segment sedan which will be available at the markets in 2015.
The dimensions of the C-X17 are 4,718mm (185.7") length and 1,649mm (64.9") height. Although it is a distinctive crossover, it carries the emblematic Jaguar appearance. For example, the grille is an evolution of the distinctive nose of the Jaguar XJ luxury sedan, while the sculptured haunch lines remind of that of the Jaguar F-TYPE sports car.
The car runs on 23-inch alloy wheels matched with low profile tyres, and give the C-concept a sporting, aggressive presence. In addition, the LED headlamps, J-shaped running lights and frosted-glass foglights set into the large front intakes additionally enhance the visual stance of the car.
The vehicle is painted in a Cesium Blue finish, with gloss black brightwork surrounding the windows. The split five-spoke alloys harmoniously add to this appearance because they are decided in Dark Atlas Graphite with gloss black finishers.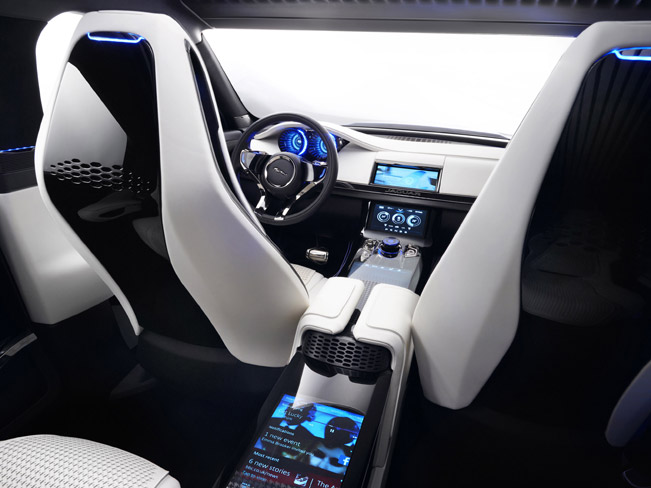 The interior of the car includes four individual bucket seats which exude luxury and comfortability. The crossover also features a unique roof that includes contoured vanes which in turn provide a distinctive 'elliptical' panoramic view.
The materials used inside are premium and authentic. The traditional craftsmanship with modern finishing techniques is visible throughout the interior. For instance here are included, a combination of Jet saddle Connolly leather and Orchid Connolly leather on the instrument panel, seats, armrests, doors, floor and in the cargo area, with stitching on the saddle leather.
On the other hand, the utilization of die-cut Houndstooth-pattern leather patches on the main leather panels further adds to the vehicle's comfortable ambience. Another luxury effect is made by the ruthenium, milled aluminum and black brushed anodized metal finishes. The door finish is gloss black.
What is more, a center tunnel which runs the length of the car and extends from the instrument panel through to the rear passenger seats includes Interactive Surface Console. This is an interactive multi-passenger infotainment hub with a series of touchscreens under a continuous panel of transparent acrylic glass.
At last, the premium in-car digital audio system of the Jaguar C-X17 has been designed by Meridian Company, while the vehicle's center console is configured for a Heads Up Display projector.
Video Source: YouTube
Source: Jaguar