JE Design 2013 Seat Leon FR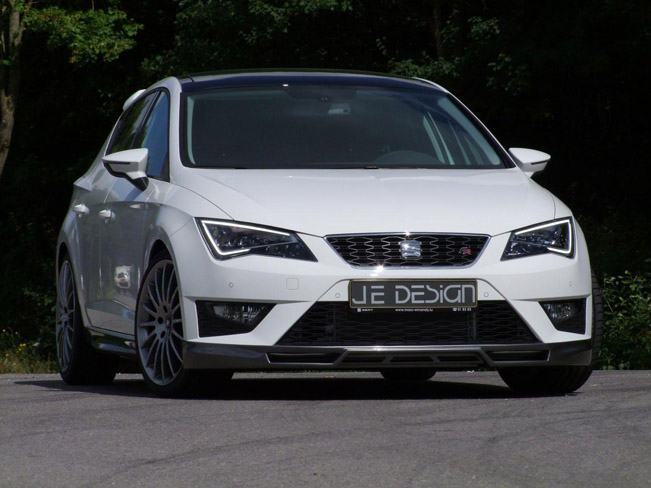 JE Design has announced their latest project based on 2013 Seat Leon FR. The hot hatchback gets both – styling and performance ugprades.
The exterior features a lot of carbon fiber elements including a front spoiler, side skirts and a rear bumper insert. The price for the complete set is €1,369. In the five-door hatchback, you can opt for a roof spoiler – 357. There are also two stainless steel tailpipes on both sides, each with a diameter of 80 mm. The complete stainless steel muffler (€899) has an EC approval.
Other goodies include lowering springs -30mm for €237 or KW coilover suspension - €1,049, which can lower the car between 35 and 65 mm. For the highest standards, JE DESIGN also offers the adjustable rebound and compression-damping KW coilover suspension Variant 3 - €1,749.
"Scorpio" type light alloy wheels come in dimesions 7.5J x 18" and matt black finish with matt silver front. They are fitted with 225/40 R18 performance tires. The complete wheel set is available at a price starting from €839.
Last, but not least is the performance upgrade for the 1.8 liter TSI engine – 215HP (158 kW) and 300Nm (221 lb-ft) - an increase of 35 HP and 50Nm. 0-100 km/h in 6.9 seconds and hit a top speed of 235 km/h (146 mph). The price is €1,990 including VAT and 12 month warranty.
Source: JE Design