JE DESIGN Seat Leon FR hits Essen Motorshow 2009
For JE DESIGN specialists even the FR (Formula Racing) model of Seat Leon is not enough powerful. Their newly developed sports ride will make its debut at the Essen Motorshow exhibition 2009. Refined into a true racer, the JE DESIGN Seat Leon FR is charged with even more power and visual aggression.
The Leon's 2.0-litre TFSI petrol engine, which normally produces 211 horsepower (155 kW) is boosted by a good quarter to 270 horsepower (199 kW) and 355 Nm of torque. With these performance numbers the classic zero to 100 km/h sprint lasts only 6.2 seconds. JE DESIGN offers the engine enhancement for 1499 Euro including VAT, assembly and a one-year warranty.
Due to an additional Can-Tronic modul, the two-litre TDI engine performance numbers rises from the factory 170 hp (125 kW) to 204 hp (150 kW) and the maximum torque from 350 to 380 Newton metres. JE DESIGN's price for that upgrade is 1339 Euro and also includes VAT, assembly and warranty.
The refined exterior of the Spanish hot-hatch features: bold headlight blends (89 Euro), LED daytime running lights (299 Euro), front spoiler with the double lip (279 Euro), side skirts (299 Euro), rear skirt (299 Euro), diffuser (99 Euro) and four-pipe exhaust system (899 Euros).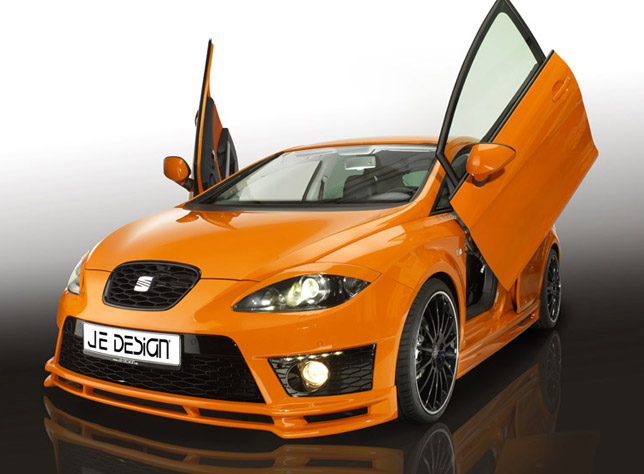 Furthermore, the JE DESIGN Seat Leon FR is 35 millimetres closer to the asphalt thanks to a lowering springs (159 Euro). An individual lowering from 15 to 40 millimetres can be achieved through a coilover suspension (979 Euro). For safe road contact the engineers at JE DESIGN have mounted an elegant 19-inch black multi-spoke wheels with dynamic design (entire wheel set for 2930 Euro).
One of the most significant and sportiest modifications done in the JE DESIGN's Seat Leon FR are the wing door hinges (1499 Euro), which blows out the crowd as soon as the driver opens the doors.
The JE DESIGN's complete race car transformation for the Leon FR includes also an exclusive interior enhancements such as: noble leather upholstery (1599 Euro), two-stage seat heating (379 Euro), adjustable lordosis support (319 Euro) and seats massage system with twelve programmes (429 Euro).