Je Design Seat Altea XL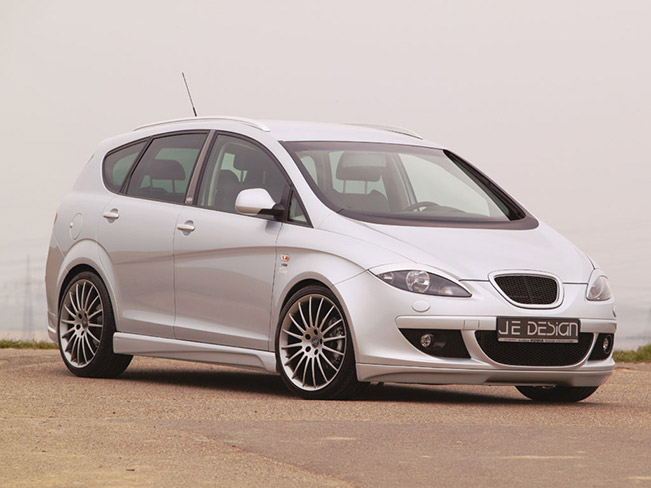 Whoever admires minivan look would do well deciding on a Seat Altea XL. JE DESIGN provides a clearly sportier version for its mid-size family car through its Spanish alterations. A car body kit completes the aesthetically pleasing form. In addition, JE DESIGN offers amongst other options a lowering, a sports exhaust and new rims.
Facelift by JE DESIGN
A complete facelift procedure is performed by JE DESIGN on the front of the SEAT Altea. A new grill with grid inset – in contrast to the original version minus brand labelling – is available in Matt Black or by request in matching vehicle finish and is just the first step offered. Next are headlight eye brows providing the Altea series-produced headlights with a much more serious look. The third step is a new front spoiler available to optimise aerodynamics. Naturally, JE DESIGN dedicates its attention as well to the other side of the Seat Altea. Side skirts set provide this and thanks to the new rear apron fitting, an optical lowering of this vehicle ensures a rear sporty look. The single parts for the Seat Altea XL are also available as a complete kit.
Further optical measures pertain to the doors as JE DESIGN provides an 8-component highly polished door handle set in chrome. Matching to this the Leingarten, Germany, based tuner offers the B-pillar in "3D Chrome".
More power
Even a mid-sized family van can have the liberty of a power boost. JE DESIGN increases the 2.0 TDI engine from series-produced 103 kW/166 PS to 130 kW/176 PS with 4000 U/min. Improved elasticity values follow this procedure maximizing the torque to 405 Nm compared to the series-produced 320 Nm. The power surge effects high-speed as well. With 210 km/h the Altea runs a quick 9km/h faster than the series-produced version. The sprint from 0-100 km/h is performed in just 8,9 seconds versus 9,9 seconds. As required for any serious tuner, JE DESIGN supplies the power enhancement with TÜV parts approval.
Better vehicle handling, improved brakes
More agility is promised through a lowering set lowering the "Altea XL" by approximately 35 mm. Optionally offered by JE DESIGN is an adjustable coilover suspension with preset damper setting.
For those who prefer sustained deceleration, JE DESIGN installs a 330x28mm 4-piston sports brake system on the front axle providing more safety.
19-inch und more sound
Absolute mandatory are new rims. For example, offered within the complete wheel sets is the design "Multispoke"in 8.0 x 19 ET 45 with tires 225/35 R19 This wheel also comes in Chrome-look in sizes 17 und 18-inch. Alternatively JE DESIGN offers the design "Masterline" in 17-inch.
Tuning of sound is modified by JE DESIGN for the Seat Altea in way of powerful sound equipped through a rear silencer. It is composed of four anti-corrosion stainless steel 90mm tailpipes two on the left and two on the right providing an even more sporty look.